ABBAS: PEOPLE KNOW WE IN RIGHT PART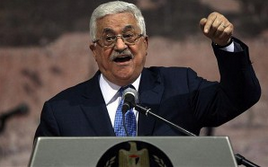 Gaza, 16 Muharram 1436/9 November 2014 (MINA) – Palestinian President, Mahmoud Abbas said, the states recognition to Palestinian independence some time ago showed that international community know who is the right on the conflict of Palestine- Israel.
"We go to UN and get 138 votes, it is clear that the international community stand with us in all forums, the world know that we are in the right and Israel does not want peace," he said in an interview the national TV, Mi'raj Islamic News Agency (MINA)'s correspondent reported in the Gaza Strip Friday.
Previously, Swedish Foreign Minister, Margot Wallström, announced his government has officially recognized a Palestinian state, followed by the announcement of the unofficial British parliament who said the same thing.
The Sweden recognation is very important, and there are some countries will follow the country.
Wallström questioned the ambiguity happening in Palestine, where the educated people are colonized by Zionism.
"However, a nation with zero percent illiteracy and has 53 universities and has spawned a variety of global achievements, today still under occupation and does not have an official state?" He added.(L/P008/R03)
Mi'raj Islamic News Agency (MINA)