WOMAN IN UK ABUSES PREGNANT MUSLIM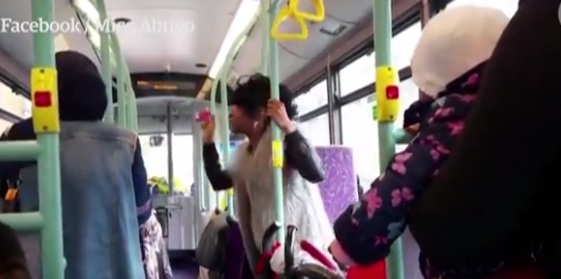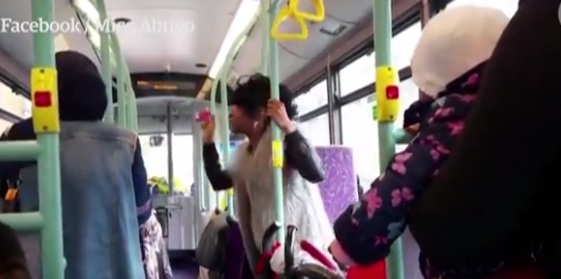 London, 6 Muharram 1436/19 October 2015 (MINA) –  A woman has admitted racially abusing a pregnant Muslim woman on a bus after a video of the incident went viral.
Simone Joseph called Hanane Yakoubi and her two friends "Isis bitches", accused them of having "bombs up their skirts" and shouted "fuck off back to your own country", The Guardian reported.
She also threatened to kick Yakoubi, who is 34 weeks pregnant, in the stomach so she would "never have children again". The outburst was witnessed by shocked passengers on the 206 bus in Brent, north London, including Joseph's two-year-old daughter.
The mother of three handed herself in to police three days after the incident, which happened on 13 October, after a member of the public posted the footage online.
She pleaded guilty to causing racially aggravated distress at Hendon magistrates court on Monday.
Yakoubi has said she is scared to leave the house. "As a consequence I find it difficult to sleep and cannot take medication because I'm pregnant," she said in a statement read to the court.
Joseph, 36, of Willesden Green, north-west London, was released on unconditional bail and will be sentenced on 13 November. She wept as she was led out of the dock.
Yakoubi boarded the bus at about 10.30am with two other women and a young child in a pushchair. "For no apparent reason the defendant started swearing at her, telling her to fuck off back to her own country," prosecutor Darren Watts said.
"The verbal abuse, described as constant swearing, continued for approximately five minutes. The bus had a number of other passengers present, including children and indeed the defendant's own two-year-old child. Other individuals appeared shocked and distressed by the footage."
The driver stopped the bus to try to stop Joseph but she carried on, the court was told. She was also seen walking up and down the bus filming her victim.
"At one point she said she would kick the complainant in the stomach and she would never have children again," Watts said. "The complainant is 34 weeks pregnant."
Watts said the incident was reported by "shocked and concerned individuals" after the footage was posted on social media. Joseph told police it was a "lapse" and had been "taken out of context".
In her statement, Yakoubi said she was previously the victim of a similar incident. "Every time I go out I'm afraid I might find myself in this situation as something similar has happened on a bus on another occasion because I am Muslim," she said.
Tony Meisels, representing Joseph, said: "She apologises for the hurt and distress caused to the persons on the receiving end of her behaviour. She recognises this was totally unacceptable and it was totally out of character.
"She is appalled, shocked and disgusted by what happened on that day. She wants to convey her regret to the victims."(T/R04/R03)
Mi'raj Islamic News Agency (MINA)