UN Lower Flags at Half Mast to Honor 101 Colleagues Who Died in Gaza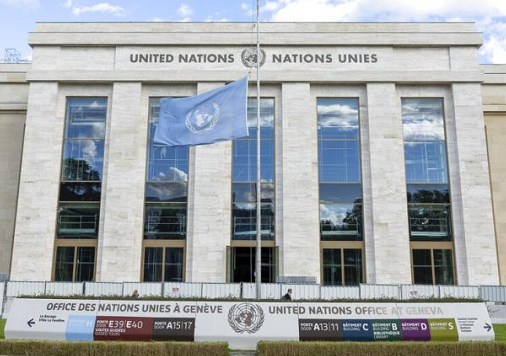 The UN office lowered its flags to half-mast on Monday (13/11) including at UNRWA. Staff observed a minute of silence to mourn and honor the 101 Agency colleagues who died in Israel's war on the Gaza Strip. (Special Doc.)
Ramallah, MINA – The United Nations (UN) office lowered its flag to half mast on Monday, including at UNRWA.
Staff observed a minute of silence to mourn and honor the 101 agency colleagues who died in Israel's month-long war on the Gaza Strip.
According to a report by the Palestinian News Agency WAFA, the solemn ceremony was part of the commemoration of the deaths of UNRWA comrades in the Israeli war held at UN offices around the world.
Several UN representative offices were seen displaying flags at half mast, including representative offices in Sri Lanka, China, Japan and Thailand. The UN flag was flown at half-mast at 09.30 local time in Bangkok, Tokyo and Beijing.
UNRWA Director Tom White in Rafah said the death toll from UNRWA was the highest in UN history and it continued to rise.
"These colleagues were among 13,000 UNRWA staff working in Gaza, and many of them were killed along with their families. "They are teachers, principals, health workers, including obstetricians, engineers, support staff and psychologists," said White.
"UNRWA staff in Gaza appreciate the lowering of UN flags around the world. "But in Gaza, we must continue to fly the UN flag as a sign that we are still standing and serving the people of Gaza," said White.
UNRWA hosts nearly 780,000 people in more than 150 facilities in the Gaza Strip.
UN facilities, including those providing shelter, have not gone unnoticed during the war in Gaza. To date, more than 60 people have been affected, including 10 directly affected. At least 70 percent of the affected facilities are in the central and southern regions near Wadi Gaza. (T/RE1/P2)
Mi'raj News Agency (MINA)