UAE WELCOMES MODI, TO BUILD FIRST HINDU TEMPLE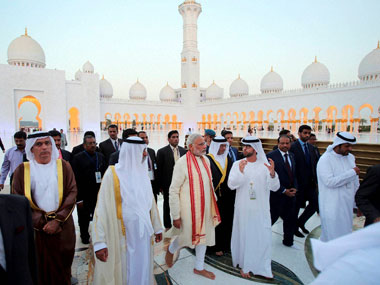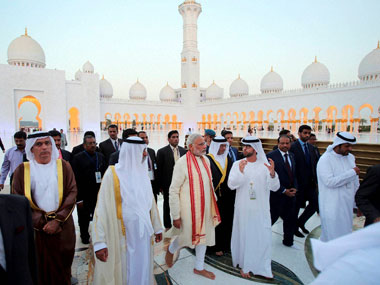 Abu Dhabi, 3 Dzulqa'dah 1436/18 August 2015 (MINA) – Prime Minister Narendra Modi started a two-day visit to United Arab Emirates on Sunday, August 16, becoming the first Indian premier to visit the country in three decades.
"Modi's visit to the Grand Mosque is a clear signal that he wishes to bury his own communalist baggage and build on India's pluralistic reputation and highlight Islam's role in Indian history," Kadira Pethiyagoda, visiting fellow in Asia-Middle East Relations Brookings Doha Center said, On Islam quoted by Mi'raj Islamic News Agency (MINA) as reporting.
On his first day, Modi visited the main mosque in Abu Dhabi, Sheikh Zayed Grand Mosque, the world's third largest mosque.
Modi's visit to India's third largest trading partner behind the US and China was widely seen as a "conciliatory gesture" to the Muslim minority.
"The UAE visit, on the whole, will have a huge impact on Indian honor and Muslims, though the Prime Minister has visited several Central Asian countries and Bangladesh in the recent past," Modi's confidant, Zafar Sareshwala, who has been camping in the UAE in preparation for the visit for months, told The Hindu. "Indian Muslims do look to the Arab world as a leader in their religious affairs."
When Modi was elected, the biggest fear for Muslims was that their lives would be adversely affected. Modi has failed to create a sense of security among minorities especially Muslims in India.
Reportedly, a majority of Muslim scholars and commoners feel that even after becoming the prime minister, Modi's heart is for Hindus, and that he should broaden the scope of his governing toward one that is all-inclusive.
Modi has also been criticized for his alleged failure to stop the 2002 Gujarat riots that killed more than 2,000 people, the majority being Muslims.
The prime minister denied any wrongdoing and was later exonerated of all charges by the apex court. Hindu Temple
UAE's decision to allocate a land for Abu Dhabi's first Hindu temple has been praised by the Indian PM who described the move as a great step.
"I am very thankful to the UAE Govt for their decision to allot land in order to build a Temple in Abu Dhabi. This is a great step," Moddi wrote on Twitter.
The decision also won the applause of Indian researchers.
"There will be those who will think that it is about him [Modi] demanding a temple or pushing a religious agenda. It is none of that," Samir Saran, vice president of the Observer Research Foundation, a think tank based in Delhi, told Al Jazeera.
"It was simply a case of him being the first leader from India to go to UAE after a long time, and it was a goodwill gesture.
"It is still a relationship centered around trade, Modi certainly didn't go lobbying for a temple."
The visit, which is the first by an Indian prime minister since Indira Gandhi's trip in 1981, is expected to a give a boost to the already existing strong economic ties between the two countries.
Representing more than 30% of Emirati population, India has about 2.6 million Indian expatriate.
"The prime minister's visit is of strategic significance in our bilateral relations and follows on the heels of growing diplomatic, economic, energy and defense cooperation between our two countries," UAE state news agency WAM quoted UAE Foreign Minister Sheikh Abdullah bin Zayed al Nahyan as saying.
Muslims account for 180 million of India's 1.1 billion people, the world's third-largest Muslim population after those of Indonesia and Pakistan. (T/P006/R03)
Mi'raj Islamic News Agency (MINA)