UAE HOTELS TAP INTO ISLAMIC TRAVEL MARKET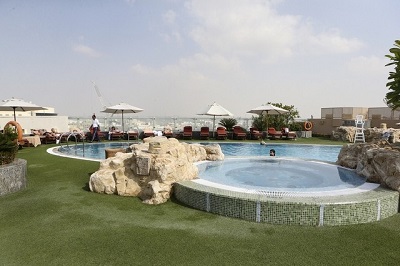 Dubai, 19 Rabi'ul Awwal 1435/10 January 2015 (MINA) – Hotels are just one segment of the burgeoning Islamic travel market that also involves tour companies, airlines and airport caterers.
The extent to which hotels go to cater for the Islamic market varies. Some offer no alcohol and have no nightclub, others serve only halal food, while some are Sharia-compliant. But whatever is on offer, acceptance among non-Muslim visitors, investor interest and finding revenue generators to make up for alcohol revenues are among the key issues such hotels face, say analysts and hoteliers.
A few minutes before the clock struck 12 many hotel guests in Dubai gathered for a New Year toast, but a growing number of properties in the city welcomed the arrival of 2015 with a mocktail and halal food.
Among them was the five-star Taj Palace Hotel in the heart of old trading centre Deira. At the Taj, guests watched the fireworks display at the Burj Khalifa from the 11th-floor rooftop, sipping mocktails. Opened in 2001, the property has shunned alcohol, including in food, and does not have a nightclub.
"Most people then said it was strange and it would not work," says Ahmed Badawy, the hotel's general manager. "But going by the occupancy rates, and we are full on New Year's Eve, the concept has been successful," thenational.ae quoted by Mi'raj Islamic News Agency (MINA) as reporting, Friday.
The property, owned by Juma Al Majid Group, was among the first of the luxury hotels in Dubai to offer features that have gained in popularity as part of the Islamic travel sector.
The interest among investors, especially the availability of Sharia-compliant funds and funding from Islamic banks, is a major factor that can expand the sector, says John Podaras, a Dubai-based partner at hospitality consultancy Hotel Development Resources.
"There is growing awareness throughout demand markets of Islamic value tourism, and there will be a growth in such hotels," he says. "The real growth is probably in the mid-market and budget sector, especially in terms of business travel."
As Sharia funding has become more popular over the past decade, more brands were formed that adopted aspects of Islamic tourism. These include the Shaza Hotels, Tamani Marina Hotel, Coral Dubai Deira Hotel, EWA Dubai Deira Hotel and Coral Al Khoory Hotel Apartments from Dubai-based operators HMH, Al Jawhara Metro Hotel, Gardens Hotel and Al Jawhara Hotel Apartments from Lootah Hotel Management, and Rotana's Rayhaan properties.
Other properties include the Banyan Tree Al Wadi in Ras Al Khaimah which has certified halal for all the meat it serves.
There are at least seven hotels in Dubai with a five-star rating that are dry, including Millennium Plaza on Sheikh Zayed Road, Samaya Hotel Deira and Auris Plaza Hotel Al Barsha.
These hotels do not market themselves as dry or halal or Sharia-compliant. The reason is they do not want to lose out to competition, and also want to attract guests for whom such facilities do not matter, according to Mat Green, the head of research and consultancy for UAE at CBRE Middle East.
Damac hotels launched its Sharia-compliant Constella project in Jumeirah Village in May. It will have separate swimming pools and gymnasiums for men and women, a restaurant with sections for men and families and floors for women served by female staff. An Islamic bank will manage funds for the project.
"With increasing tourism from the more conservative countries such as Saudi Arabia and Oman, there is a growth in demand from the leisure sector from families that prefer to stay in an environment that will not be at odds with their beliefs and way of life," Mr Podaras says.
Since such customers seek a family-friendly property, the demand is often met by hotel apartments, such as JA Oasis Beach Tower on Jumeirah Beach, where amenities include separate spa, gym and swimming pools and facilities for praying.(T/P009/P3)
Mi'raj Islamic News Agency (MINA)