Two Muslim Women, Babies Attacked in NYC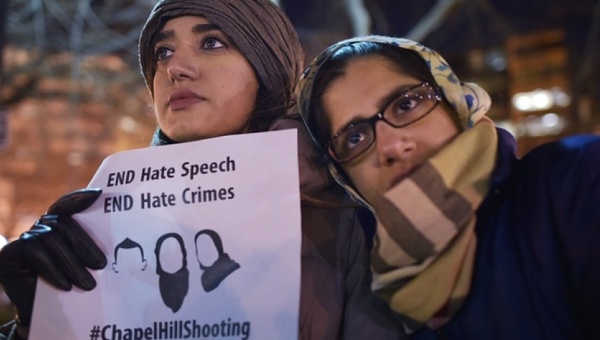 New York, 08 Dzulhijjah 1437/10 September 2016 (MINA) – A woman yelling anti-Muslim sentiment attacked two Muslim women as they were pushing baby carriages in Bath Beach Thursday afternoon, New York Post reported.
"Get the f*ck out of America b*tches, you don't belong here!" The suspect Emirjeta Xhelili shouted, pushing aside the baby carriages with the children still inside.
The 32-years-old suspect also tried to rip the hijab from the women's heads during the attack in Brooklyn.
She struck the women in the face and body, and repeatedly shouted, "this is the United States of America, you're not supposed to be different from us," court documents allege.
Xhelili allegedly told the women, "get the (expletive) out of America (expletive), you don't belong here."
She also attacked their children, pushing one stroller to the ground and rattling the other while two infants sat inside, according to court documents. The 11-month-old and the 15-month-old, along with their mothers, were not seriously injured, CNN reported.
Shortly after the incident, New York Police Department officers arrested Xhelili in Brooklyn.
During an arraignment Friday, the Brooklyn District Attorney's office described the incident as a hate crime, charging her with offenses including assault, reckless endangerment of a child and harassment, according to court documents.
The New York Legal Aid Society attorney who represented Xhelili in court could not be reached for comment.
The Council on American Islamic Relations of New York called for justice.
"We urge the Brooklyn District Attorney's Office to prosecute this horrific attack vigorously, sending the message that hate attacks targeting any minority group will not be tolerated," said Afaf Nasher, executive director of CAIR-NY.
"We urge mosques and Islamic institutions to increase security measures, particularly this weekend as the nation marks the solemn occasion of the 15th anniversary of the 9/11 terror attacks, which some may use as an excuse to attack American-Muslims."
The alleged attack comes in the wake of recent murder charges against the alleged killer of a Queens imam and his associate in August.
"CAIR has noted a spike in anti-Muslim discrimination and hate crimes in recent months, which the civil rights groups attributes at least in part to Islamophobic rhetoric used by various public figures," CAIR-NY said in a statement.
Xhelili is scheduled to appear again in court Wednesday. Bail is set at $50,000 bond or $25,000 cash.(T/R04/R03)
Mi'raj Islamic News Agency (MINA)