TURKISH PM VOWS TO SPEAK OUT AGAINST ISRAELI AGGRESSION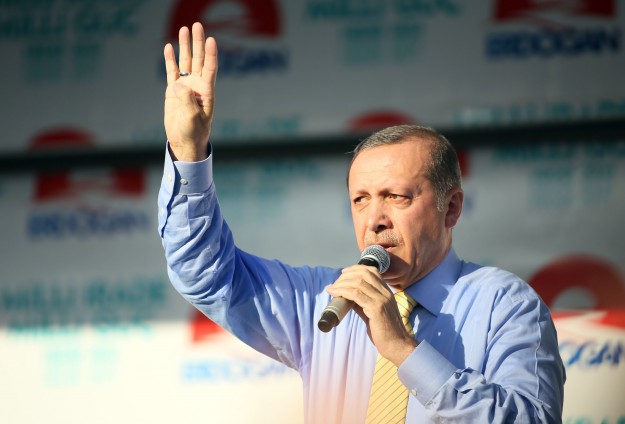 Tokat, Turkey, 12 Ramadan 1435/10 July 2014 (MINA) – Turkey will continue to speak out against Israel's aggression against the Palestinian people, Turkey's prime minister and presidential candidate Recep Tayyip Erdogan has said.
Speaking at a rally in the central Anatolian city of Tokat on Thursday, he criticized the response of Turkey's opposition presidential candidate to the fierce onslaught by the Israeli military on the Gaza Strip, Anadolu Agency quoted by Mi'raj Islamic News Agency (MINA) as reporting.
Erdogan told his supporters: "Oh God! Israel is bombarding, defenseless people are being killed and a presidential candidate — Ekmeleddin Ihsanoglu, former secretary general of the Organization of the Islamic Cooperation — says you have to be impartial on the Palestinian issue.
"What kind of an understanding is that? He had the same logic and comprehension during his tenure as the OIC secretary general."
"My ancestors would go from Malazgirt all the way to Europe, Yemen and Tunisia on horseback, why wouldn't I care about my neighbors in Iraq, Syria, Egypt and Gaza?" he added.
Erdogan referred to the historical Ottoman rule over a vast area from Asia to Europe and Africa, and said that Turkey could not turn a blind eye to the pain and suffering of the people in different countries of the Middle East and elsewhere in the world.
Hundreds injured
Previously in an interview on a private television channel, Ihsanoglu had said that Turkey should remain impartial on the Palestinian issue.
Five Palestinians, including three children, were killed in the Gaza Strip on Wednesday in fresh Israeli airstrikes, bringing the total number of Gazans killed since Monday to 40.
"The Israeli airstrikes have left 40 people dead so far and 350 others injured, some of whom remain in serious condition," Gaza Health Ministry spokesman Ashraf al-Qudrah told the Anadolu Agency early Wednesday.
The latest escalations follow the disappearance and death of three teenage Jewish settlers in the West Bank last month and the subsequent murder by Jewish extremists of a 16-year-old Palestinian boy.
The Republican People's Party and the Nationalist Movement Party have chosen  Ekmeleddin Ihsanoglu, the 71-year-old former head of the Organization for Islamic Cooperation, as their candidate for the elections — the first in Turkey where the president will be chosen by popular vote.
Turks will go to polls on 10 August to choose their first democratically-elected president. (T/P09/E01)
Mi'raj Islamic News Agency (MINA)