TURKEY-QATAR AGREE TO MILITARY COOPERATION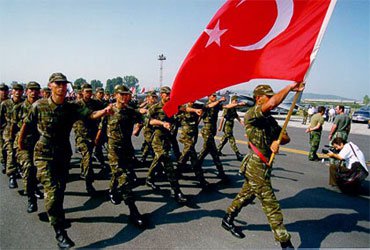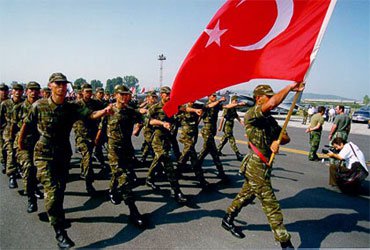 Ankara,16 Jumadil Awwal 1436/7 March 2015 (MINA) – New agreement between Turkey and Qatar permits the deployment of joint troops in both countries Brat Junkar, Chairman of the Foreign Affairs Committee in the Turkish Parliament, has explained that the committee has ratified a number of bills including a "military cooperation agreement" between Turkey and Qatar.
He stressed that this agreement has nothing to do with the understanding concluded between Turkey and the US regarding training and equipping the Syrian opposition or with the activities of the US Central Military Command that is based in Qatar, Middle East Monitor (MEMO) quoted by Mi'raj Islamic News Agency (MINA) as reporting, Saturday.
This came in a written communique in which he added that the ratified military cooperation agreement includes the exchange of operational expertise and training, the development of military industries, the potential for the redeployment of joint troops in both countries when necessary and conducting joint military exercises.
He pointed out that the agreement is aimed at expanding cooperation prospects in accordance with established rules and principles and at developing the amicable relations that already exist between the two sides in a manner that conforms with acceptable international rules and understandings.
Junkar also said that Turkey views its relations with the Gulf States through a strategic prism. He added: "The issue of the security and stability of the region's countries is the most important element in that strategic view of ours.
This agreement will provide a strategic ground for our country in this region that has been known to us since the dawn of history."
He noted that Turkey has concluded many understandings and agreements in the field of military cooperation, defence industries, military training and qualification with most of the Gulf countries and that the coming days may witness the signing of similar memoranda of understanding and agreements with other Gulf states.
Junkar pointed out that the agreement allows for the deployment of Turkish armed forces in the State of Qatar and permits it to do the same in Turkish territories.
He stressed that the content and extent of this agreement were left open and that it serves no other purpose than what has been made clear within its own articles.
Therefore, he added, it should not be misinterpreted or given dimensions that contradict with what is stated within it such as linking it to the understanding concluded between Turkey and the US regarding the training and equipping of Syrian opposition or linking it to the activities of the US Central Military Command, which is located in Qatar.
He stressed that the bill will be subjected to voting in full transparency before the Turkish Parliament in accordance with the principles and measures adopted in the case of international agreements concluded between Turkey and foreign countries. (T/P002/R03)
Mi'raj Islamic News Agency (MINA)