Thousands of Muslims Stage Protest to the Chinese Embassy in Jakarta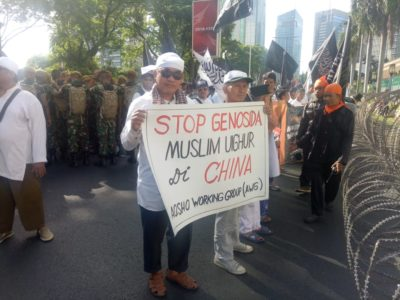 Jakarta, MINA – Thousands of people from a number of Islamic institutions staged protest in front of the Embassy of the People's Republic of China in Jakarta on Friday (21/12). to demand an end to the suppression of Uighur Muslims in Xinjiang.
Some Islamic institutions are like Jama'ah Muslimin (Hizbullah), Al-Aqsa Working Group (AWG), Jakarta Aswaja Ulama Forum, GAPMI, HMI, and a number of other circles from students to humanitarian activists.
Thousands of participants came using white and black attributes complete with black and white tauhid flags. They made speeches in front of the Chinese Embassy until noon.
"When we come to this place (the Chinese Embassy) they are simply not on the premises, arguing that there are improvements in the culverts. This is a form of humiliation, "said Sakuri, a representative of Jama'ah Muslim (Hizbullah) in his speech before the participants of the action which was guarded by hundreds of security personnel.
Sakuri, who is also the Chairman of the Jama'ah Muslim (Hizbullah) in the Jabodetabek region, said that Islam had been accused of being a notion that spread terror. But the fact is that the majority of acts of terror in the world are carried out by non-Muslims.
"So far Islam is considered a terrorist, but today we see this place (the Chinese Embassy) as a hotbed of terrorists. This is a real abomination and savagery. "Chinese Communists are barbaric," he said.
He demanded the Indonesian government to act decisively against China. He also demanded the world community to bring Chinese leaders into the International Criminal Court (ICC) to account for his actions.
One of the action participants, Wihdan Hidayatulloh said that his presence in this action was due to his awareness of his fellow Muslims, there was no other motive.
"This is the calling of the heart. I came here solely because of that. "Muslims who have the slightest faith will surely feel sad about the conditions that occur in China," he said.
He hopes that the atrocities against Uighur Muslims will soon end because besides being contrary to religious norms, they are also contrary to humanitarian norms.
In recent days, China has been bombarded with criticism from the world community for their treatment of what is considered to be the oppression of a large number of Uighur people, the country's Muslim minority group, among others by holding them in special camps.
According to Human Rights Watch, the Uighurs in particular are closely monitored. They must provide biometric and DNA samples. There have been reported arrests of those who have relatives in 26 countries that are considered 'sensitive'. And up to one million people have been detained.
In August 2018, a UN committee reported that up to one million Uighurs and other Muslim groups were held in the western Xinjiang region, where they underwent what was called a re-education program, or re-education.
Rights groups say people in the camps are forced to learn Mandarin and are directed to criticize, even renounce their faith and are forced to consume pork. (L / R06 / RS3)
Mi'raj Ne