The Book "Balada Seorang Dai" Tells the Da'wah Struggle of Abul Hidayat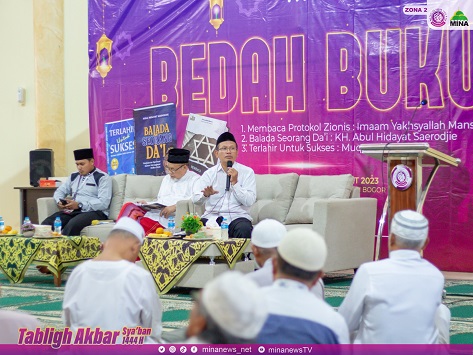 Cileungsi, Bogor Regency – The book entitled " Balada Seorang Dai" (The Ballad of a Dai') written by KH. Abul Hidayat Saerodji was dissected in a series of Tabligh Akbar and Festivals at the At-Takwa Mosque, Al-Fatah Islamic Boarding School, Pasirangin, Cileungsi, Bogor on Friday.
The author of Ustaz AHI, as he is affectionately called, said that the book was written from experience, empathy, and high dedication in preaching,
"The advantage of a preacher's attitude lies in zuhud and qanaah. Therefore, a patient human being is a human who does not lose his balance in the face of various difficulties," said Ustaz AHI.
He revealed that writing the book Balada A Dai was the most fluent compared to other works, this book was written as a result of the experience of preaching throughout the archipelago. Even when preaching, I received rejection from the community. That's where the valuable experience of a preacher is not to give up easily.
Antara Senior Journalist Asep Faturrahman said that this book could be a guide for preachers. It is easy for us to read this book, but it is not necessarily easy to become actors in its history.
"Then the book. can be a strategic guide for preachers in preaching, preachers can understand humbly so that they can explore the journey of a preacher," he added.
Dakwah Bil Hikmah is conveying da'wah in a wise manner, namely approaching it in such a way, so that preachers able to preach do not feel coercion, pressure or conflict.
"Dai in conveying da'wah must have a sincere attitude from the heart, solely hoping for the pleasure of Allah," he added. (T/RE1)
Mi'raj News Agency (MINA)