Taman Mini Indonesia Indah Has A New Face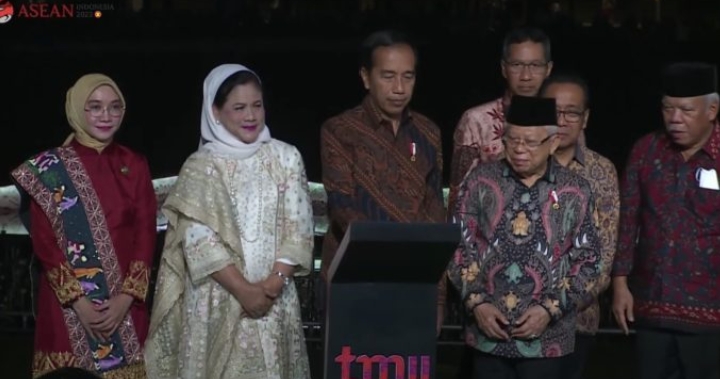 President Jokowi was accompanied by Mrs. Iriana and the Vice President along with Mrs. Ma'ruf Amin and other officials at the Inauguration of the Revitalization of TMII, in Jakarta, Friday (01/09/2023). (Source: Screenshot)
Jakarta, MINA – Indonesian President Joko "Jokowi" Widodo inaugurated the revitalization of Taman Mini Indonesia Indah (TMII) on Friday in Jakarta.
The President hopes that with this new face, TMII can become a big icon of tourism in Indonesia.
"I am sure that with its new face, Taman Mini Indonesia Indah will become a big tourism icon in Jakarta and of course in Indonesia," he said.
The revitalization carried out, said the President, also returned TMII to the initial spirit initiated by Mrs. Tien Soeharto. The revitalization of TMII also carries the concept of green open space.
"In the afternoon, Taman Mini Indonesia Indah should now be cooler because the concept has been returned to the original master plan, namely 70 percent green open space and 30 percent buildings," said the President.
Apart from carrying a green concept, all museum buildings and regional platforms at TMII have been beautified and revitalized by carrying inclusive, cultural and smart concepts.
"The public can now visit and enjoy the new face of Taman Mini Indonesia Indah which is neatly arranged, greener, more beautiful and more comfortable," concluded the President.
Previously, Minister of State-Owned Enterprises (BUMN) Erick Thohir in his speech said that the revitalization of TMII was a collaboration of three ministries, namely the Ministry of State Secretariat (Kemensetneg), the Ministry of Public Works and Public Housing (PUPR), and the Ministry of BUMN.
"At that time, the Minister of State Secretary, Mr. Pratikno, assigned the two of us, Mr. Basuki, the Minister of PUPR and myself, the Minister of BUMN, to renovate Taman Mini Indonesia Indah, which really has historical significance for Indonesia," said Erick.
TMII renovations have been carried out since January 2022 and cost the PUPR Ministry a budget of around IDR 1,070 billion. Apart from that, the state-owned company Injourney also allocated a budget of around IDR 200 billion for beautification and other things.
Ready to Welcome Assistant Leaders of ASEAN Countries
Previously, the Minister of Tourism and Creative Economy (Menparekraf) Sandiaga Salahuddin Uno revealed that TMII was prepared as one of the locations for a series of activities for the 43rd ASEAN Summit.
"Later there will be a spouse program aimed at accompanying heads of state or government which will be held on September 6 2023 afternoon," said Sandi, in Jakarta on Tuesday.
The Spouse program will be held on a cultural stage overlooking Lake Archipelago TMII. There, delegates and tourists could see miniatures of the islands in the country, from Sumatra to Papua.
At night, Lake Archipelago TMII will light up reflecting light from the red and white lights. The attraction is enlivened with a dancing fountain that presents a sophisticated light play show. This dancing fountain is held every night near a lake with a miniature Indonesian archipelago.
Apart from that, TMII also provides various entertainment facilities and services such as cable cars, bird parks, Indonesian museums, contemporary museums, and platforms throughout Indonesian provinces. (T/RE1/P2)
Mi'raj News Agency (MINA)