Syria Conflict Foreign Artificial: Ulema Syria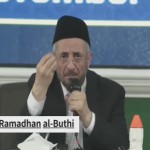 Jakarta, 1 Jumadil Akhir 1437/10 March 2016 (MINA) – Chairman of the Ulema Sham, Prof. Dr. Taufiq Ramadhan Al-Buthi said, conflict in the Middle East countries, particularly in Syria is the result of engineering foreigners.
"What is happening in the Middle East is a soap opera, a play that has been set. Does the fall of regimes like Saddam Hussein, Moammar Gaddafi, Hosni Mubarak, conflict in the Middle East will be completed? No, it appears the new war in Yemen, in Syria, in Sudan which is unique came after the leaders stepped down," he said during an International Seminar at the University of Indonesia (UI), Central Jakarta, Thursday (10/3).
Present at the International Seminar entitled "The Role of Ulama in the reconciliation of political crisis in the Middle East," the Chairman of the Center for the Study of the Middle East and the Islamic University of Indonesia, Muhammad Lutfi Zuhdi; Members of the Advisory Council President, KH. Hasyim Muzadi; Ambassador of the Republic of Indonesia to Syria, Drs. Djoko Harjanto and several experts to the Islamization of the UI.
Behind engineering, said the child of a prominent Syrian cleric Sheikh Ramadhan Al-Buthi, the existence of a Jewish actor who has designed a long time ago.
"The actor behind it named Bernand Henry Levy, he is a Jew who is directing a number of wars in the Middle East," he said.
"In addition to the role of an actor, there is also the role of the mass media. A number of mass media in the Middle East will no longer act as penghabar news, but has become news makers, and this is very dangerous, "he added.
Furthermore, according to him, the main purpose of our wars were designed by Jewish agent in the Middle East, especially in Syria is to annihilate the Muslims.
"There are three main objectives that I have observed from the war in Syria. First, devastated Syria, both give a bad impression about Islam and the third burying Mujahideen Islam by making the Syrian people as victims, "he said.
According to him, the effort was done because the people of Europe and the United States are not able to deal with Islam in sight, so they take advantage of jihadists as a way to weaken Islam.
"Thousands of people came from Europe in the name of the jihadists. We're talking thousands, not hundreds or dozens, not possible if Europe's security apparatus did not sniff it. Lying when they say do not know. You know what do people who claimed as the jihadists in the Middle East? They are cruel, killing innocent people, raping women doing well, then they proclaim in their media about their work in the name of Islam. They are very confident in what they are doing," he concluded. (L/P011/R07)
Mi'raj Islamic News Agency (MINA)