Surviving Children of Surabaya Bombers in State Care in Secret Location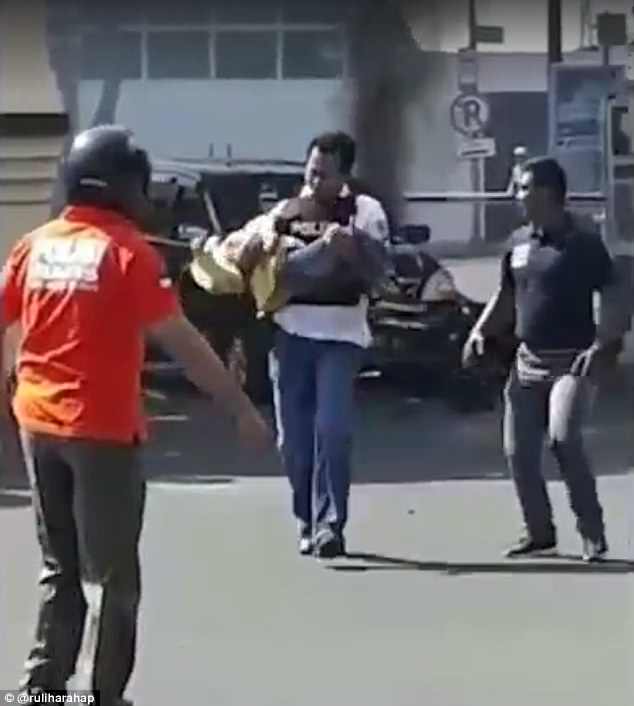 Jakarta, MINA — The seven-year-old girl whose parents mounted a suicide bomb attack at the Surabaya police headquarters on May 14 is now under the care of Indonesia's Social Affairs Ministry.
She joins six other children, aged between seven and 15, of suspected militants who were killed while in the midst of planning terror attacks in East Java last month.
Social Affairs Minister Idrus Marham said his ministry has taken custody of all seven children and will help in their rehabilitation, reported Antara state news agency.
Speaking to reporters after receiving the children at Halim Perdanakusuma Airport in East Jakarta on Tuesday night (June 12), Mr Idrus said there is a need to protect them, and he believes they will adapt well to rehabilitation.
He declined to disclose the centre's location citing security reasons, but said "they are now in a safe and decent place".
The seven-year-old girl is the daughter of Tri Murtiono, a militant who brought along his entire family of fiveon two motorcycles to the Surabaya police station, where he blew himself up.
His wife and two other children were killed in the explosion, while his daughter miraculously survived despite being flung more than 30 metres by the blast.
Indonesian police at the site of a blast outside the Surabaya Centre Pentecostal Church in Surabaya on May 13, 2018.
Referring to Murtiono's only surviving child, she said: "His daughter is cheerful even though her right hand is broken."
The attack on the police station came the day after the coordinated suicide bombings by a single family on three churches in Surabaya on Sunday morning. A family of six, including a nine-year-old girl, had targeted the churches, killing at least 13 people.
Indonesian police have arrested 37 suspects in connection with the suicide bombings in Surabaya, while four other suspects were shot and killed by police in the dragnet to bring to justice those responsible for the attacks in Indonesia's second-largest city.
The seven kids receiving rehabilitation include the children of Anton Febrianto, the head of a family in Sidoarjo, located just outside Surabaya city centre.
Anton blew himself up on May 13 during a raid by the police, killing his wife and 17-year-old son in the process but three children, age 10 to 15 survived.
The remaining three children in the care of the Social Affairs Ministry are of another suspected militant Dedy Sulistianto. He was shot and killed by police in Manukan Kulon, Surabaya on May 15.
The attacks in Surabaya last month claimed 27 lives. Among the dead are the 13 perpetrators and their families who are said to have beenin sleeper cells with ties to the Jemaah Ansharut Daulah (JAD), a local terrorist group loyal to the Islamic State in Iraq and Syria (ISIS).
Rising level of tactical sophistication among the attackers.
Traces of military-grade explosives found at the attack sites, and the fact that women and children were used as cover for the suicide bombings, suggest a rising level of tactical sophistication among the attackers.
But the involvement of women and the willingness of the parents to sacrifice their own children have also raised concerns.
Analysts have estimated that as many as 100 children may have been brought along by their parents to Iraq or Syria to join ISIS.
Security agencies, such as the Densus 88 counter-terrorism unit, have flagged "child terrorism as a looming threat".
Prior to the announcement that the seven affected children will be put under state care, a Densus 88 officer, who cannot be named due to the nature of his work , told The Straits Times that the police were working with Indonesia's Child Protection Commission to resolve cases involving young people.
The previous Social Affairs Minister Khofifah Indar Parawansa had also planned programmes to focus on helping former militants and their families to reconcile with society.
Meanwhile, Ms Rismaharini told Tempo news on Tuesday that the children seemed to have been influenced by their parents.
The government's directorate for children's rehabilitation said the kids will be provided assistance until they recover psychologically before being reunited with their closet next-of-kin. (T/RS5/RS1)
Mi'raj IslamicNews Agency (MINA)