Some 300,000 Muslims Attend Overnight Prayers at Al-Aqsa Mosque in Jerusalem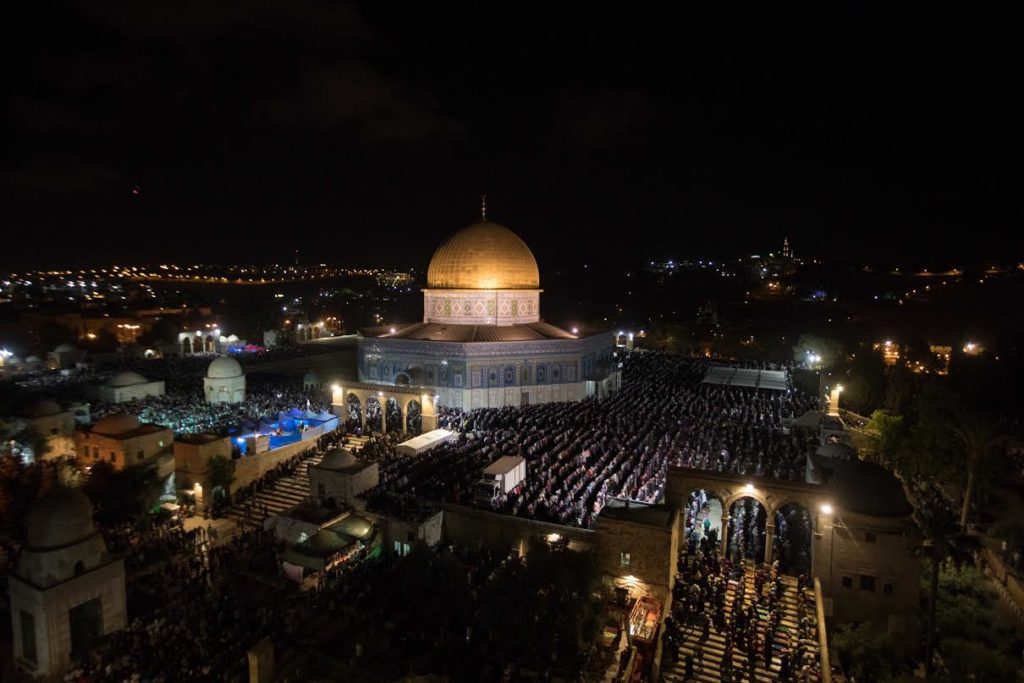 Jerusalem, 27 Ramadan 1438/22 June 2017 (MINA) – Some 300,000 Muslims performed Taraweeh prayers on Wednesday at Al-Aqsa Mosque in Jerusalem on the eve of Laylat al-Qadr, one of Ramadan's holiest nights, which is most likely falls on 27th night of the month.
Prayer on the holy night is said to be better than 1,000 months of prayers, due to the abundance of mercy and blessings shown by Allah during a time when the Qur'an was first revealed to Prophet Muhammad (peace be upon him), IINA News reported.
The Jordan-run Islamic Waqf department said among the hundreds of thousands of worshippers at the mosque were pilgrims from many countries, including Malaysia, Turkey, South Africa, France, Russia, the United Kingdom, Jordan, and Indonesia.
Addressing the worshippers at the holy site, Sheikh Omar Kiswani, the mosque's director, said the masses of worshipers who attended the overnight prayers at al-Aqsa Mosque confirms to the entire world that "they [worshipers] came here to reaffirm the Islamic nature of this mosque and defend it."
Earlier the day, the Israeli occupation authorities banned worshipers from the West Bank below the age of 40 from entering Jerusalem to attend overnight prayers at al-Aqsa Mosque. Worshipers between 30 and 40 of age were only allowed entry with a special permit issued by the Israeli authorities.
Sheikh Azzam al-Khatib, director of the Jerusalem office of the Islamic Waqf, condemned the Israeli measures and entry restrictions on Palestinian worshipers from the West Bank. He said all Muslim worshipers should have the right to access the holy site throughout the year and with no restrictions.
The Al-Aqsa Mosque is the third holiest place in Islam after The Two Holy Mosques in Makkah and Madinah.(T/R04/RS5)
Mi'raj Islamic News Agency (MINA)