Shangri-La Dialogue Focuses on Terrorism in SE Asia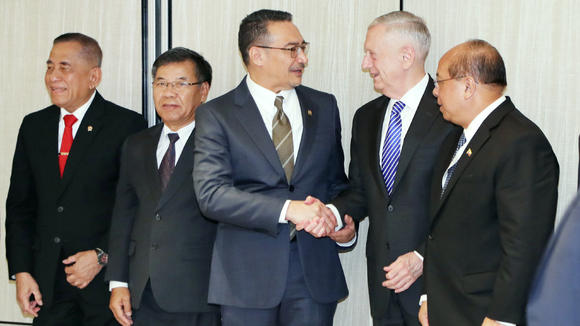 US Defense Secretary James Mattis, second from right, shakes hands with his Malaysian counterpart, Hishammuddin Hussein, at the IISS Shangri-La Dialogue in Singapore on June 4. Nozomu Ogawa) photo.
Singapore, 10 Ramadan 1438/5 June 2017 (MINA) – In the wake of the Manchester and London attacks, pipe bombs in Bangkok, suicide bombings in Jakarta, and a besieged city in the southern Philippines, Southeast Asian nations harbor few doubts about the likelihood of more terrorism ahead.
The fight against extremist groups, many with connections to Islamic State which is at war in the Middle East, was one of the main topics discussed by defense ministers attending the Shangri-La Dialogue in Singapore this weekend — the 16th Asia Security Summit organized by the International Institute for Strategic Studies (IISS), a London-based think tank, asia.nikkei.com.reported.
On Sunday morning, defense ministers and other representatives of the Association of the Southeast Asian Nations (ASEAN) met with James Mattis, the U.S. defense secretary, to discuss the situation in Marawi, a besieged Muslim majority city on Mindanao, the southernmost of three main islands in the Philippines.
"U.S., Singapore, Malaysia and Indonesia offered assistance to the Philippines to deal with the terrorist situation," Defense Minister Ng Eng Hen of Singapore tweeted soon after the meeting.
On Saturday, Mattis affirmed the U.S. commitment to counter-terrorism. "We are exploring new ways to address … the growing threat posed by the spread of terrorism in Southeast Asia," he said.
"We must defeat extremist organizations wherever they attempt to establish root, not just in Iraq and Syria but also here in Southeast Asia."
Trilateral response
Disturbed by the penetration of extremist ideologies, ASEAN ministers called for regional cooperation in the war on terrorism during the three-day meeting.
Later this month, Indonesia, Malaysia, and the Philippines are expected to begin trilateral maritime patrols in the waters of the Sulu archipelago off Mindanao near the conflict area.
Tightening security in the area was originally intended to combat piracy, but will now attempt to control the movement of militants around Marawi.
Parts of Marawi were overrun last month by the Maute group, an anti-government force aligned with Islamic State that is now using civilian hostages trapped inside the city as human shields.
As of Friday, over 170 people had been killed in the clashes: 38 government troops, 19 civilians, and 120 militants.
The latter include foreign fighters from Indonesia, Malaysia, and the Middle East. Defense Secretary Delfin Lorenzana skipped the Shangri-La Dialogue because of the crisis.
Magnet for jihadists
Ng said at least 31 terrorist groups in Southeast Asia are known to have allied themselves with Islamic State.
Singapore's defense minister expects the terror threat to rise if extremists arrive from the Middle East, where they have been losing ground.
He said Southeast Asia is a risk of being a "pulling ground for would-be jihadists". Defense Minister Hishammuddin Hussein of Malaysia said Asia-Pacific is now in the "crosshairs" of Islamic State. (T/RS5/RS1)
Mi'raj Islamic News Agency (MINA)