INDONESIA SEEKS MORE INVESTMENT IN MARITIME SECTOR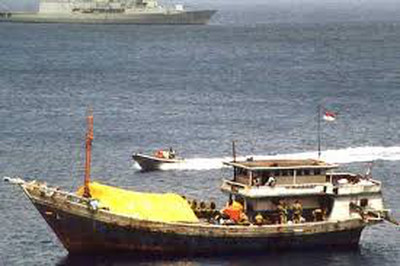 Jakarta, 13 Dzulhijjah 1435/7  October 2014 (MINA) – The government expects to see flourishing investment in the maritime sector, both from domestic and foreign investors, in the coming years following the passage of a new maritime law that provides legal certainty to business  people.
More legal certainty and huge potential in the maritime sector are expected to draw in business people, according to Maritime Affairs and Fisheries Minister Sharif Cicip Sutardjo.
"We are trying to tidy up contradicting regulations to attract business. The new law is the result of cooperation between 14 ministries and relevant agencies that have 32 laws relating to the maritime sector," he said during the 2014 Indonesia Ocean Investment Summit in Jakarta on Wednesday, The Jakarta Post quoted by Mi'raj Islamic News Agency (MINA) as reporting.
The summit provides business insights for prospective investors and players from other sectors. It is a follow-up to the Marine and Fisheries Expo and Conference in August, which also saw panel discussions on, among other topics, sea transportation, maritime industry and marine tourism.
Sharif said input and suggestions from the event would be handed over to the incoming administration under president-elect Joko "Jokowi" Widodo as a road map contribution for policy-making in the maritime sector.
The minister emphasized that the new maritime law was one of the efforts aimed at reducing obstacles that often made business people reluctant to enter the sector.
Sharif said marine spatial management, bilateral and multilateral cooperation as well as legal certainties for investors were only a few of the important points mentioned in the law.
He was confident that the new law would help investors take opportunities from Indonesia's maritime sector, which is estimated to have economic potential of US$329.2 billion each year — $32 billion from fisheries, $56 billion coastal businesses, $40 billion biotechnology, $2 billion marine tourism, $21 billion oil industry and $20 billion sea transportation.
"However, the value of economic activities in the marine sector only reached Rp 291.8 trillion last year," he said.
Sharif added that the economic size of fisheries sector was predicted to reach Rp 337 trillion, a drastic increase compared to 10 years ago of around Rp 4.4 trillion to Rp 7.4 trillion each year.
The fisheries and maritime sector has grown 6 percent each year since 2010, while revenues gained from the sector has reached a maximum Rp 52 million per year and a minimum Rp 26 million per year, according to Central Statistics Agency (BPS) data.
The ministry's data shows that Indonesia consumes around 38 kilograms of fish and fish products per capita each year, surpassing the 2.5 kg per capita consumption of beef.
Meanwhile, the potential value of business opportunities in Indonesia will surge to $1.8 trillion in 2030, especially in the consumer, fisheries and agriculture, natural resources, as well as education and infrastructure sectors, according to a McKinsey research.
Also on Wednesday, Indonesian Chamber of Commerce and Industry (Kadin) chairman Suryo Bambang Sulisto said the new maritime law would push investments to the maritime sector.
"During the last six decades, Indonesia has been more focused on land investment, which made us forget the maritime sector. That is why we should practice good governance, prudence and sustainability when investing in the sector," he said.
In the financial sector, publicly listed state lender Bank Mandiri president director Budi Gunadi Sadikin echoed Suryo's opinion that efforts to increase prudence and good governance were expected in the maritime sector, which is deemed high risk compared to other sectors.(T/P009/P3)
Mi'raj Islamic News Agency (MINA)