RCMP Allows Muslim Women Mounties to Wear Hijab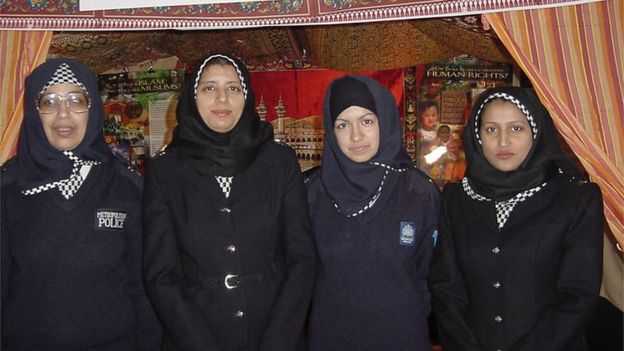 Ottawa, 23 Dzulqa'dah 1437/26 August 2016 (MINA) – The Mounties have adopted a new uniform policy to allow female Muslim officers to wear the hijab, CBC News reported.
Scott Bardsley, spokesman for Public Safety Minister Ralph Goodale, confirmed that RCMP Commissioner Bob Paulson recently approved an addition to the uniform policy to allow women officers to wear the head scarf "if they so choose."
"The Royal Canadian Mounted Police (RCMP) is a progressive and inclusive police service that values and respects persons of all cultural and religious backgrounds," Bardsley said in an email.
Male members of the Sikh faith have been able to wear the turban as part of the RCMP uniform since the early 1990s, he noted.
That right was won by Baltej Singh Dhillon, a young practising Sikh who wanted to become a Mountie but also wanted to wear a turban on the job.
The federal government's decision in 1990 to end the ban and allow him provoked emotional debate and widespread protests across Canada.
Bardsley said the new policy is intended to better reflect diversity in Canadian communities and to encourage more Muslim women to consider the RCMP as a career option. It isn't known how many, if any, women Mounties now wear the hijab.
Toronto, Edmonton police allow
Bardsley said the RCMP will be the third Canadian police force to adopt the hijab policy, behind Toronto and Edmonton police services. Police services across the U.K., Sweden and Norway, and some in U.S. states, have also adopted similar policies.
The military has longstanding policies "to protect and promote the religious or spiritual rights and freedoms of [Canadian Armed Forces] members," including accommodating religious and spiritual requirements "if militarily practicable."
"The CAF would evaluate a request, taking into account the religious beliefs of the member, and make a decision based on safety and operational considerations," spokesman Daniel Lebouthillier said in an email.
In past, the policy has allowed members of the Sikh religion to wear a turban, as long as it does not jeopardize operational safety.
Certain conditions
He noted that Lt.-Cmdr. Wafa Dabbagh became the first CAF member to wear the hijab in 1996.
According to the military's dress instructions manual dated 2001, members can wear the hijab with certain conditions.
"For spiritual and religious reasons, members are authorized to wear the hijab, provided that any danger should be avoided when they carry some types of operational gear parts such as gas mask, oxygen mask, combat/vehicle/flying/ construction helmets, diver's mask, etc.," the policy reads.
"In case of real danger, these members shall modify their hairstyling or hijab, or both, in a way that will allow them to wear the requested gear." (T/R07/R01)
Mi'raj Islamic News Agency (MINA)