PRESIDENT ASSAD SWORN IN FOR NEW TERM IN OFFICE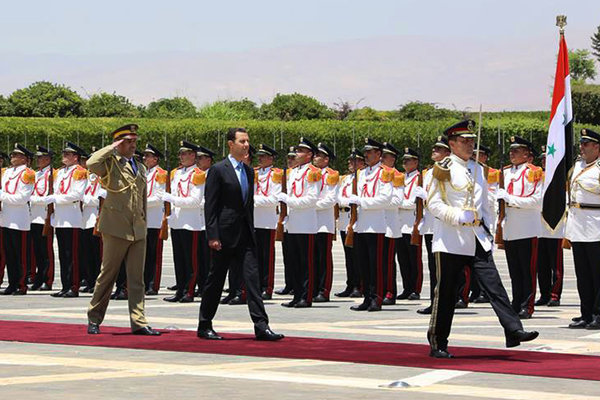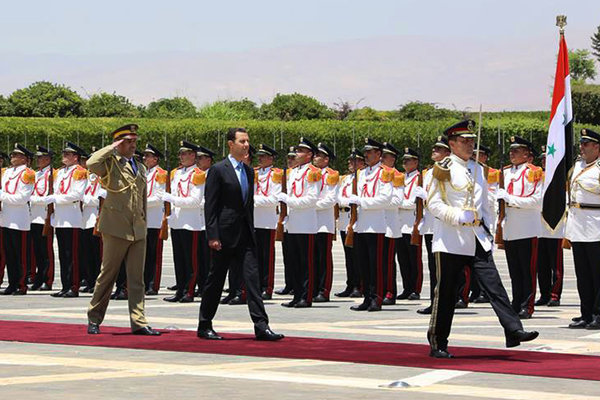 Damascus, 19 Ramadan 1435/17 July 2014 (MINA) – Syrian President Bashar al-Assad arrived at the People's palace in Damascus and walked a red carpet solemnly passing the honor guard.
The president was sworn in for a third term in office before speaker of the Syrian parliament, the cabinet and Muslim and Christian clergymen, Press TV quoted by Mi'raj Islamic News Agency (MINA) as reporting.
The President confirmed that the government is on the track of a political solution based on internal reconciliations that would allow the displaced to return and stand in the face of conspiracies.
Assad asserted that fighting terrorism and corruption is a priority in the coming phase. He also said that he will rebuild the nation and bring the economy back on track. Assad stressed the countries that supported terrorism will pay a high price.
At the same time, he thanked Iran, Russia and China for their support to the Syrian nation and for defending the country's sovereignty. Finally, Assad praised what he called the heroism of Syrians and the army in facing the war waged on them.Syrians on the streets were satisfied with the president's words and said they are looking forward to work together to rebuild their country. This is the third 7-year term for Assad in office.
Last month, He won 88.7 % of the votes in the first multi-candidate presidential election in the country. The next step for the president according to the constitution is to issue a decree on the formation of a new cabinet.
President Assad reiterated the Syrian policy of eliminating terrorism as well as pursuing the national dialogue to reach a political solution aimed at ending years-long unrest in the country. Assad acknowledged that the challenges are huge but vowed to restore security saying the Syrians' will is stronger. (T/P09/E01)
Mi'raj Islamic News Agency (MINA)