Persecuted Muslim Rohingya Find Refuge In Chicago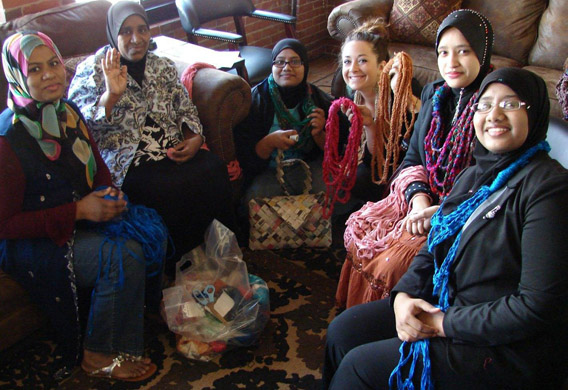 Chicago, 10 Rajab 1437/16 April 2016 (MINA) – Nasir Bin Zakari is one of almost 1,000 Rohingya refugees who've built a new home in Chicago, where the majority began arriving in 2013. The local group makes up nearly a fifth of the Rohingya refugees resettled across the country since 2010, U.S. Department of State officials said.
The Rohingya population now has grown large enough for the Zakat Foundation of America, an Islamic nonprofit organisation, to sponsor the opening the Rohingya Cultural Center, a West Rogers Park storefront equipped with meeting space and computers.
The center was the brainchild of Bin Zakaria, who saw a need for a place where Rohingya refugees could do everything from study English to practice their faith. Mi'raj Islamic News Agency (MINA) quoted Middle East Monitor (MEMO) as reporting. .
The center also provides incoming Rohingya refugees unfamiliar with American society sorely needed practical advice, such as not giving out one's Social Security number, or the proper way to answer multiple-choice questions on a driving test.
The center opened April 9 and allows Rohingya families to work on their children's English homework together and prepare for citizenship tests. It also gives families space to worship in an open setting for the first time. Prayers are held daily, and the center also offers instruction on the Quran to children and adults.
"We are safe here in the U.S. We can practice our religion," Bin Zakaria said. "The (best) way we can say 'thank you' is by becoming educated. And making sure our children are educated."
Abdul Jabbar, a refugee who came to Chicago in 2012, said the center creates an environment that helps keep the Rohingya heritage and culture alive.
"These children will start speaking English in school, so at the center, they can speak Rohingya," Jabbar said. "It's especially important for the children, to remind them of our identity and culture. To remind them the government in Burma tried to eliminate us."
In Myanmar, formerly known as Burma, the Rohingya were deprived of the most fundamental form of identity — citizenship — despite having lived in the country for several generations. They have been persecuted since a regime change in 1962, and conditions grew worse in 2013, when religious tensions with the Buddhist-led regime heightened and the government forced thousands of Rohingya into designated camps, said Vikram Nehru, a senior associate with the Carnegie Endowment for International Peace.
In the camps, few Rohingya had access to education or health care. Mothers rarely left their homes, fearing their sons would be arrested or kidnapped by patrolling militants.
The Chicago Rohingya are hoping the community center, located on Devon Avenue, will make Chicago more attractive for Rohingya resettlement.
For the most part, however, the Rohingya and other refugee groups don't have much input on where in the United States they'll be relocated, said Helen Sweitzer, resettlement director at the Chicago agency RefugeeOne. The agency has resettled 265 Rohingya since 2010, with most arriving in 2015.
"If a big Rohingya community develops here, others from the country might move here," Sweitzer said. "But there's no real telling."
Bin Zakaria  escaped the camps when he was 14 years old and spent nearly twenty years living undocumented in Malaysia working at a construction job. He applied for U.S. citizenship and, once approved, brought along his wife, Laila Mouhmadsoun, and daughter, Zubaida, in 2013.
Bin Zakaria pitched the idea for the center to the Zakat Foundation last May, and took a monthlong leave from his job as a dishwasher at a casino in Des Plaines so he could focus on the center's development.
To him, providing the Rohingya with a space to educate themselves was a priority. Children were being placed into middle and high schools with no previous education, and needed tutoring. The center also provides English language classes for adult Rohingya.
"If I quit my job, it doesn't matter. If I lose the center, these 1,000 people will suffer," he said.
Sisters Nur and Sajidah Omarsultan, 16 and 12, respectively, grew up in Malaysia, where they had not attended school since kindergarten. They arrived with their family in Chicago in 2011, and Sajidah now attends Clinton Elementary School on the Far North Side.
It's still hard to make friends at times, she said, but she's overjoyed about the prospect of finishing high school, and eventually attending college something no one in her family thought possible five years ago.
"I want to be a social worker!" she said brightly, her eyes wide. "I want to help immigrant refugees. Like me." (T/P002/R03)
Mi'raj Islamic News Agency (MINA)