Palestinians Rejoice Lifting of Restrictions on Al-Aqsa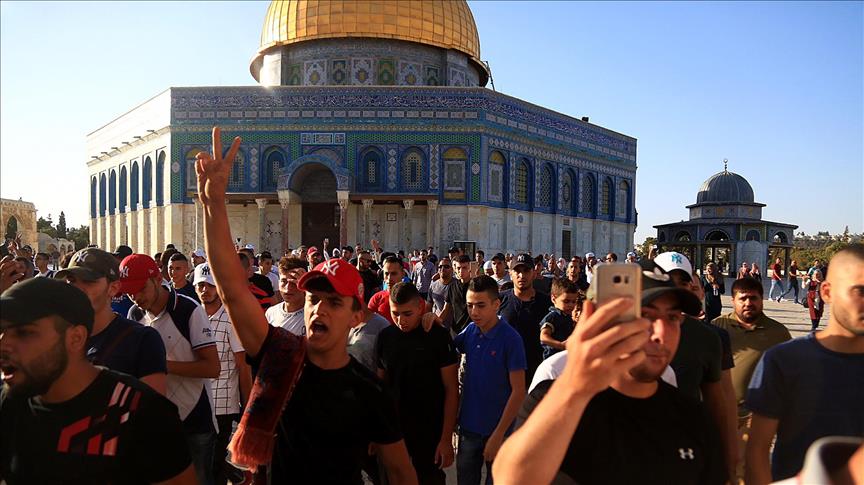 Palestinians gather to celebrate near Jerusalem's Old City as they enter the Al Aqsa Mosque following the removal of Israel's restrictions at the entrances to Al Aqsa Mosque.
Jerusalem, MINA – Palestinians on Saturday took to the streets and rushed into Al-Aqsa Mosque after Israel lifted its restrictions on Muslim worshipers entering the mosque, Anadolu Agency reported.
"It is our victory against the enemy," said a Palestinian shopkeeper, Mohammad Rajabi. "They tried to dominate Al-Aqsa but we resisted. Al-Aqsa belongs to Muslims."
Anger spilled across the West Bank since mid-July, when Israel imposed security restrictions at the Al-Aqsa Mosque compound following the deaths of two Israeli police officers and three Arab Israelis in an attack.
Muslims refused to enter the mosque and prayed on the streets surrounding the mosque compound in protest at the installation of metal detectors.
Israel, after facing international condemnation, removed the detectors on Friday.
A number of Muslims from around the world joined celebrations around Al-Aqsa and greeted each other.
Rajabi said he appreciated the concern shown by Muslims visiting Palestine from various countries, including Turkey, United Kingdom, South Africa, Malaysia, and Indonesia.
"Such visits mean support to Palestinians. That is very good, but not enough," he added. "We expect more Muslims to visit Al-Aqsa, especially the young, who are our future."
Maha Tubasi, also enjoying the celebrations, said with more Muslim visits to Jerusalem from different parts of the world, Israel would have difficulty in taking steps against Palestinians.
Another Palestinian, Mahla Gusha, called on all Muslims to go to the mosque.
"Al-Aqsa does not only belong to those in Palestine or Jerusalem, it belongs to all Muslims," Gusha said.
The city of Jerusalem is sacred to members of all three Abrahamic faiths — Muslims, Jews and Christians — and the Al-Aqsa Mosque represents the  Islamic world's third-holiest site. (T/RS5/RS1)
Mi'raj Islamic News Agency (MINA)