Palestinian Ambassador to Indonesia: Israel is the Enemy of Humanity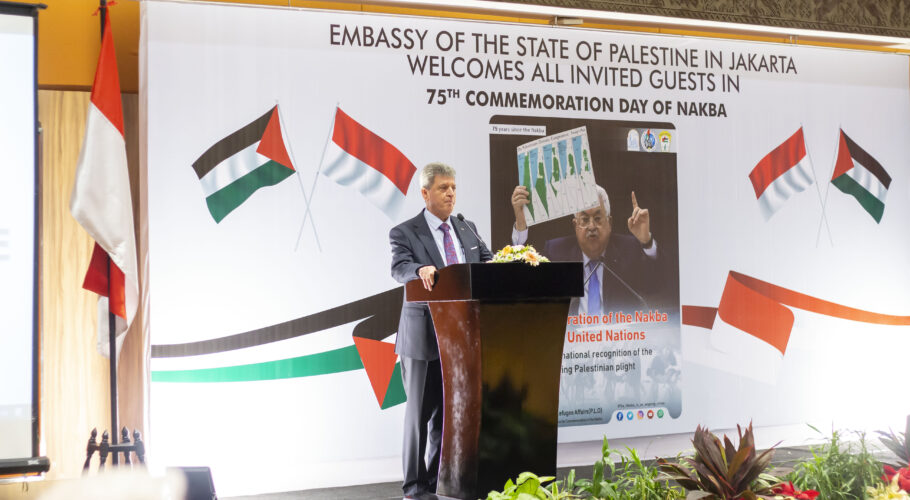 Jakarta, MINA – Palestinian Ambassador to Indonesia, Zuhair Al-Shun, said that Zionist Israel is not only an enemy of Palestine, but also an enemy of humanity, an enemy of the world.
This statement was made when delivering a welcoming speech at the opening of Palestine Solidarity Month (BSP) held by the Aqsa Working Group (AWG) together with the DPR RI Inter-Parliamentary Cooperation Agency (BKSAP) on Wednesday.
"Israel's actions in Palestine are beyond humanitarian limits. "So, they are not only enemies of Palestine, but also enemies of humanity, enemies of the world," said Zuhair.
On that occasion, Ambassador Zuhair expressed his gratitude to the Indonesian people who have made a real contribution to the Palestinian people.
"Indonesia's support for Palestine is very real. "Starting from the president, ministers, to the Indonesian people, everyone is defending Palestine," he added.Tl
The event presented figures as speakers, including apart from the Palestinian Ambassador, namely the Chairman of the BKSAP DPR RI, Dr. H. Fadli Zon, and AWG Trustee Imaam Yakhsyaallah Mansur.
Other speakers include: Director of the Middle East of the Indonesian Ministry of Foreign Affairs Bagus Hendraning Kobarsyih, Chairman of the DPR RI Bilateral Cooperation Group (GKSB) for Palestine Dr. H. Syahrul Aidi Maazat, Chair of the MER-C Presidium dr. Sarbini Abdul Murad, Chair of the AWG Presidium Ir. Nur Ikhwan Abadi, as well as Chairman of the Maemuna Center Onny Firyanti Hamidy. (T/RE1/P2)
Mi'raj News Agency (MINA)