Padang Magek Traditional Clothing Wins Archipelago Culture Parade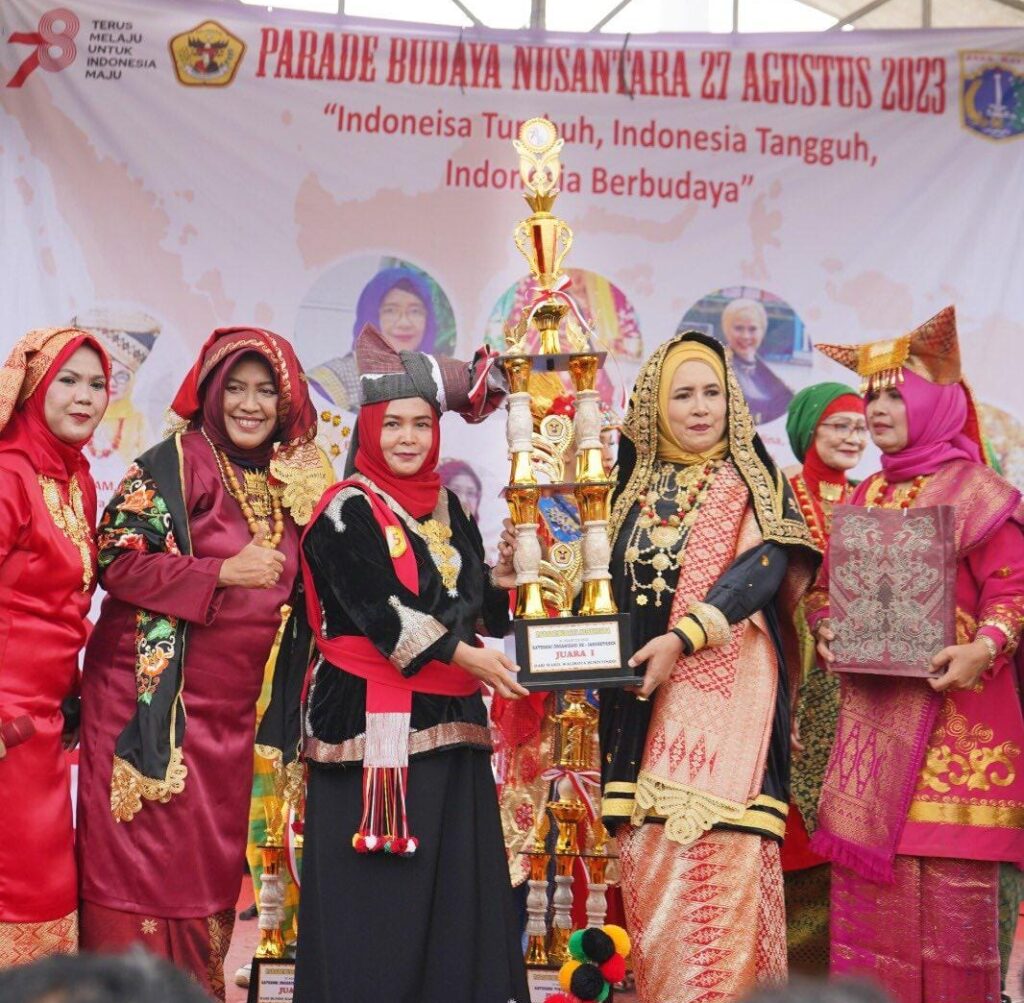 Jakarta, MINA – Indonesian West Sumatera's Padang Magek traditional clothing won 1st place in the Archipelago Cultural Parade which was held in Jakarta to commemorate the 78th Independence Day of the Republic of Indonesia.
The Archipelago Cultural Parade was held by Bundo Kanduang DKI Jakarta in synergy with the Regional Government and Central Government on Sunday, August 27 th, 2023, with the theme, "Indonesia is Growing, Indonesia is Resilient, Indonesia is Cultured".
In a statement received by MINA, Wednesday, this clothing was brought by Bundo Kanduang IKPM with the person in charge Mira Gusniwati, S.S., M.Pd, and Chairman of Bundo Kanduang Padang Magek Hj Deswarni, S.Pt who uses the Padang Magek custom "Baju Milik dan Kambuik Bajaik".
The Chairman (Bundo Kandung) Ikatan Keluarga Padang Magek (IKPM) Hj. Deswarni, S.Pt said, Baju Milik has cultural values that are in accordance with the Minangkabau philosophy, "adat basandi Syara' 'Syara'basandi kitabullah." Tangkuluak (head accessories) are made of sarongs and mukenas that can be used when prayer time comes.
"The unique shape has its own meaning, the bagonjoang on the right shows the gonjong of the gadang house. Babungo on the left represents a beautiful and graceful Padang Magek woman. Meanwhile, the balakuak (low) in the middle shows that the people of Padang Magek solve problems by deliberation and consensus," she said.
Chief Executive Evi Susanti, S.Pd., M.M, hopes that this Cultural Parade event can be held sustainably, and we can preserve culture from Sabang to Merauke.
"Congratulations to IKPM for winning this time period, Padang Magek woman 'sabana kamek-kamek dan rancak, bajunyo cantik sarupo urangnyo' (really sweet and beautiful, the chlotes as beautiful as her person)," she exclaimed.
Meanwhile, Head of Bundo Kanduang DKI Jakarta Province, Suherni Syam, SE expressed her gratitude to all committee members and participants of the DKI Jakarta Provincial Archipelago Culture Parede event.
She said, God willing, such activities would be routinely held every year to maintain Indonesian arts and culture.
"We appreciate the committee who are never tired, and alhamdulillah everything went well and safely. We, Bundo Kanduang, will synergize with the central and regional governments. We hope that in the future, Bundo Kanduang will be better known in the community, because of his good services," concluded Suherni Syam, S.E.
The Parade was also attended by IKPM Management H. Maidasril, H. Alisar, S.E, H. Epirianto and IKPM Lemses elders Naini.
Hundreds of residents enthusiastically took part in the Archipelago Culture Parade which was held in Jakarta in commemoration of the 78th Indonesian Independence Day celebration. Around 800 participants took to the streets wearing their traditional clothes and walked happily and proud of their respective cultures.
Padang Magek is one of the town that belongs to the Rambatan sub-district, Tanah Datar Regency, West Sumatra Province, Indonesia.(L/R3/P2)
Mi'raj News Agency (MINA)