NORWEGIAN SURGEON WITNESSES ISRAELI WAR CRIMES IN GAZA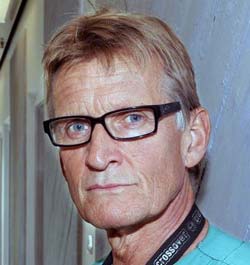 Gaza, 17 Ramadan 1435/15 July 2014 (MINA) –  Norwegian professor Mads Frederick Gilbert is utterly shocked as he checks the corpses of martyrs and the bodies of the wounded as they continuously arrive in the al Shifa Hospital in Gaza on the seventh day of the bloody Israeli onslaught on the besieged Strip.
Gilbert, 67, a surgeon, murmured as he walked in the Intensive Care Unit: "This is outrageous, horrific and unbelievable… what's happening is no less than premeditated killing and genocide," Middle East Monitor cited by Mi'raj Islamic News Agency (MINA) as reporting.
In an interview with Safa News, Gilbert says the Israeli occupation deliberately uses internationally forbidden destructive weapons in its continued onslaught on Gaza.
"Israeli bombs cause injuries that cannot be immediately seen via x-ray," Gilbert said, "After a period of time, the injury starts to bleed."
"The material used in these bombs is uncommon, which explains why we cannot cure the injured parts, and in some cases doctors are forced to amputate them," he says.
Gilbert arrived in Gaza on Thursday via the Rafah border crossing after Israel barred him from entering Gaza via the Beit Hanoun/Erez crossing.
The Norwegian physician has been to Gaza a number of times, the last was during the Israeli offensive in 2012.
An internationally renowned activist and member of the Norwegian socialist party the Red Party, Gilbert specialises in anaesthesia, and heads the Department of Emergency Medicine at the North Norway University Hospital.
"I feel as though I moved from a colourful world, where people enjoy freedom and peace, to the world of Gaza where life, peace and security are simply non-existent," he says while examining all cases that arrive in the hospital
He adds that his visit to Gaza this time is different. "The entire Gaza Strip has become a military target for Israeli warplanes; there is no safe place here. You can hear the air raids everywhere and see fear and anxiety on the faces of all the people and children."
More than 178 Palestinians, including 35 children and 24 women, have been killed by Israeli raids on Gaza since last Monday, July 7.
Gilbert expresses his distress over the volume of bloodletting caused by Israeli airstrikes: "I am very pained by the scenes of the dead and wounded at every corner of the hospital."
The Norwegian professor repeats that Israel "deliberately" targets civilians, "particularly women and children," adding that the majority of the victims are women, children and the elderly.
Gilbert has been subject to an Israeli smear campaign; Foreign Ministry spokesperson Yigal Palmor accused him of spreading lies.
Gilbert responds saying: "Regrettably, the Israeli media machine in Europe portrays the victims as members of Hamas. But we will eventually discover that these are lies and rumours. What crime have women and children committed to be killed and bombed?
"If Israel denies my claims, it should open Gaza for international teams to come and see for themselves and issue reliable medical reports," he said defiantly.
Gilbert is working diligently with other medical teams at the Shifa Hospital to rescue incoming casualties. "Israel is collectively punishing civilians," he stresses.
"The casualties we saw are horrific and abnormal. Most of them are in the head or chest, and there is no room for cosmetic operations because the type of injuries requires amputation," he explains.
Gilbert confirms that the Israeli occupation has breached all international laws and treaties, particularly the Geneva Conventions, through its policies of war and siege, and its usage of internationally banned weapons.(T/P03/P04)
Mi'raj Islamic News Agency (MINA)