NETANYAHU ACCUSES HAMAS OF KIDNAPPING THREE ISRAELI BOYS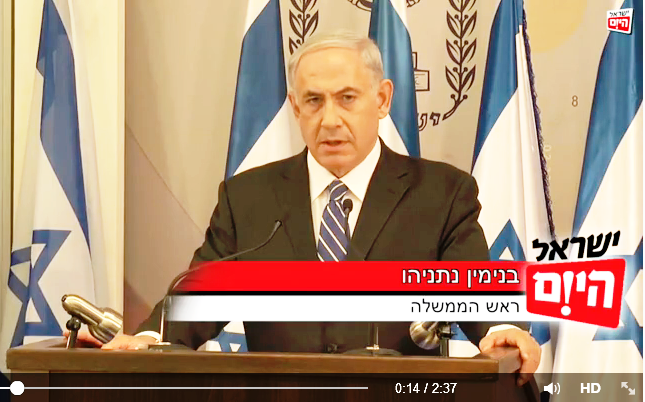 Tel Aviv, 18 Sya'ban 1435/16 June 2014 (MINA) – Israeli occupation Prime Minister Benjamin Netanyahu has accused the Palestinian resistance group, Hamas, of kidnapping three Israeli teenagers that went missing on Thursday night.
At the start of a weekly Cabinet meeting, Netanyahu said: "This morning I can say what I was unable to say yesterday before the extensive wave of arrests of Hamas members in Judea and Samaria."
Israeli forces arrested 80 Palestinian suspects so far last night in connection with the search for missing Israelis operation, according to British newspaper, The Independent and Israel Defence Force website (www.idfblog.com) reports monitored by Mi'raj Islamic News Agency (MINA), Monday morning.
"Those who perpetrated the abduction of our youths were members of Hamas — the same Hamas that Abu Mazen made a unity government with; this has severe repercussions."
Despite Netanyahu's convictions, Hamas deny any wrongdoing and claim that the boys went missing on Israeli controlled land.
The announcement by Netanyahu comes a day after the Israeli military arrested a number of Palestinians during a raid in the West Bank.
According to reports from Israeli Army officials, about 80 people had been arrested in the raid, which was part of the Israeli Defence Force's efforts to try and find the missing boys.
It was reported on Hamas' website that of those arrested, 60 were members of the group, with two former cabinet ministers and seven Hamas legislators also among those to have been detained.
One of the most prominent of these legislators is Hassan Yousef a senior Hamas activist and member of the Palestinian Legislative Council.
The raid came after the Israeli Army stepped up their search for the three Israeli teenagers that went missing just north of the Palestinian city of Hebron on Thursday.
The students – two are reported to be 16 and the third 19 – are said to have disappeared on their journey back to their Israeli settlement from school.
The Israeli intelligence agencies quickly suspected that the boys had been kidnapped when it was found that the tracking devices on the their phones had been blocked.
Since then, Israeli security forces have been patrolling the area and Israeli President Benjamin Netanyahu has put pressure on the Palestinian government to help secure the safe return of the teenagers.
On Saturday, Netanyahu said that he had been in talks with Palestinian leader Mahmoud Abbas and asked Abbas "to do everything to help bring the boys back in peace."
Spokesman for the Israel Defence Force, Lt. Col. Peter Lerner, said on Saturday that the IDF were committed in resolving this endeavour" and "would use all means at hand in order to do so."
He added: "We are determined in bringing the boys home in a [hasty] manner, in safety and in good health. Palestinian resistant fighters will not feel safe, will not be able to hide and will feel the heavy arm of the Israeli military capabilities."
Shehab TV Report: They are soldiers
Meanwhile according to Shihab News Agency TV Channel, Zionist Prime Minister Benjamin Netanyahu on Saturday evening for the first time, said that the three soldiers who disappeared since Thursday night, were kidnapped by the "resistant organization" as he said. We have no doubt of that, he said.
Netanyahu said during a press conference at his Office in West Jerusalem today #, it instructed the Israeli security services "to use all means to restore the three young men," adding: "I instructed to prevent any possibility of transfer to Gaza or anywhere else, and instructed to prepare all the troops for every possible scenario."
Netanyahu renewed the Palestinian Authority Mahmoud Abbas responsible for the safety of three Zionists after noting that perpetrators of kidnapping set off from areas in the West Bank.
Netanyahu noted that currently, large-scale security operation to find them, "you cannot only rely on ourselves."
Turn the Zionist war Minister Moshe Ya'alon, during the press conference, "we will not rest until their recovery, all security arms do intelligence access to the abductees," "kidnapping incident very serious and we will know how to reach the kidnappers."
Yaalon said that "kidnapping is the result of incitement in the Palestinian areas."
Said enemy forces Chief Benny Gants that kidnapping "is serious. We work closely with all the security arms everywhere requires it. "
"We will work with the design and we will do whatever is necessary to end the kidnapping incident as quickly as possible."
The Gants "will be our eyes open on other fronts to the Gaza Strip and the northern front in line with our efforts to return the kidnapped three young men", adding that "we will continue to move with determination, as we field accomplishments so far, calm, patience and responsibility. (T/E01/IR)
Mi'raj Islamic News Agency (MINA)