MYANMAR OPPOSITION CALLS FOR END TO MILITARY GRIP ON CONSTITUTION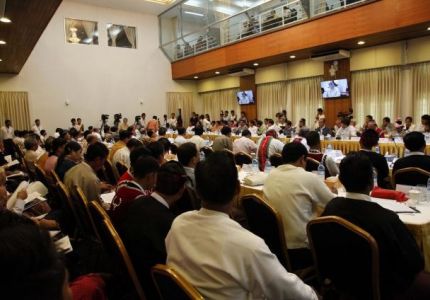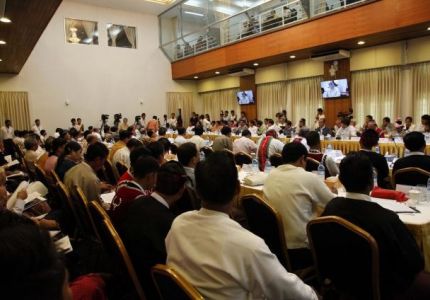 Nay Phetaw, 21 Shawal 1435/17 August 2014 (MINA) – A petition calling for the removal of an effective military veto over constitutional amendments in Myanmar has been submitted to Parliament, the Opposition said on Thursday.
"Five million signatures were sent to parliament on Wednesday," said a statement from Nyan Win, spokesman for the opposition National League for Democracy (NLD), Rohingya News Agency quoted by Mi'raj Islamic News Agency (MINA) as reporting.
The signature campaign organised by opposition leader Aung San Suu Kyi's NLD party and the Peace and Open Society headed by student leaders of the 1988 uprising, calls for changes to Article 436, which grants an effective veto to the military.
Amendments can only occur with the support of more than 75 per cent of lawmakers. The constitution written in 2008 under the former military junta, allocates 25 per cent of the seats for military members who are appointed without election.
"Without removing the military veto, any important charter change that they don't want could not be achieved," student leader Ko Ko Gyi said last week.
As the petition has no legal effect on parliament, lawmakers could ignore the effort, Ko Ko Gyi said.
"But I believe parliament will pay attention to the petition," he said.
Shwe Man, chairman of ruling Union Solidarity and Development Party and speaker of Parliament, said Monday the petition would have some effect although he had dismissed the initiative two months ago.
The NLD is also calling for amendments to an article that effectively bars Ms. Suu Kyi from becoming President because her two sons are not citizens of Myanmar.
Myanmar had made dramatic political changes since a quasi-civilian government led by President Thein Sein, who is a former junta senior leader, took power in 2011.(T/P08)
Mi'raj Islamic News Agency (MINA)