MUSLIMS IN ITALY RALLY AGAINST TERRORISM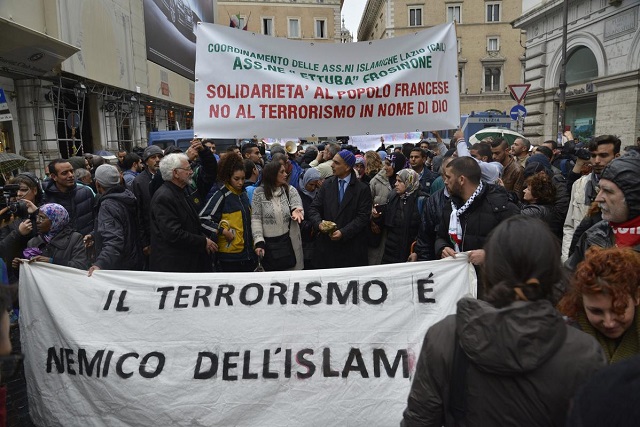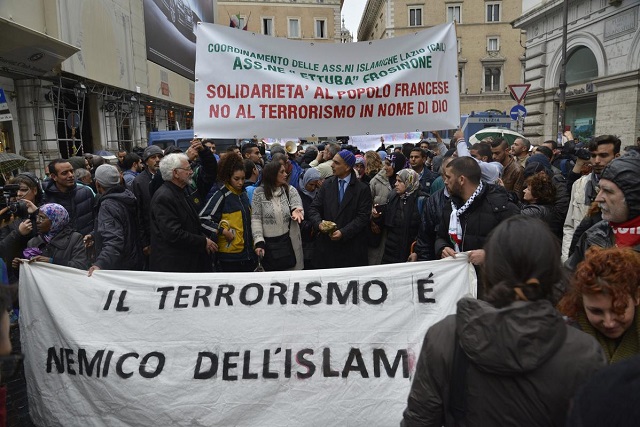 Rome, 12 Safar 1437/23 November 2015 (MINA) – Muslims held rallies across Italy on Saturday in protest of terrorism after last Friday's deadly terror attacks in the French capital Paris.
Numerous Italians also accompanied Muslims who gathered at squares in several cities across the country hundreds in Rome, Milan and Genoa under the slogan "Not in my name", aimed at distancing Islam from terrorism, World Bulletin quoted by Mi'raj Islamic News Agency (MINA) as reporting.
In Rome, hundreds stood in silence for one minute in memory of those who were killed in Paris attacks as well as in other terror attacks.
Demonstrators carried banners in Italian that read "Terror is the enemy of Islam", "Terror has no religion", "All against terrorism" and "No to terror in name of God" along with other signs in solidarity with the French.
The rally also saw supportive messages from President Sergio Mattarella and Senate Speaker Pietro Grasso
"Our message is clear,terror cannot keep on targeting people in the name of Islam," Roma Grand Mosque Islamic Cultural Center Secretary General Abdellah Redouane said as he addressed the crowd.
"Human life is divine, these attacks are unacceptable for Islam and Muslims," he added. "Terror is exploting religion for its political and ideological interests. It is brainwashing the young with radicalism. We need to fight against it."
Several Italian lawmakers also attended the rallies.
Before the rally, representatives of the Muslim community in Italy and the organizers of the rally met with Laura Boldrini, speaker of Italy's Chamber of Deputies.
"Terrorism has no religion anymore. It is important that the institutions support the stance of rejection of terrorism by Islamic communities in Italy," Boldrini tweeted after the meeting. (T/P006/R03)
Mi'raj Islamic News Agency (MINA)