MUI, Mayor Inaugurate the Construction of Indonesian Hospital in Hebron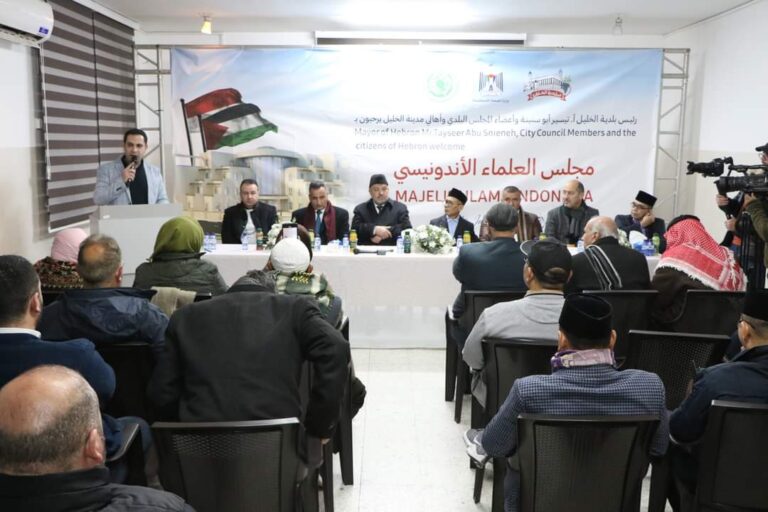 MUI, Mayor Inaugurate the Construction of Indonesian Hospital in Hebron (photo: Wafa)
Hebron, MINA – The Indonesian Ulema Council (MUI) and Mayor of Hebron Tayseer Abu Sneineh, under the auspices of the Palestinian Minister of Health, Mai Kaila, inaugurated the commencement of the construction of an Indonesian Hospital in Hebron on Monday.P
Prof. Dr. Sudarnoto Abul Hakim, Chairman of the MUI for Foreign Relations and International Cooperation (HLN-KI) told MINA on Wednesday, the inauguration was marked by opening the curtain on the construction project of the Indonesian Rehabilitation and Physiotherapy Hospital in the area " Gron Grad", south of Hebron, witnessed by a number of Indonesian delegates, including Bunyan Saptomo (Chairman of the HLN-KI Commission), Dr. Andy Secretary of the HLN-KI Commission, Dr. Amirah and other members of the group.
Also present to witness, Director of the Directorate of Health (Rami Al-Qawasmi), Director General of the Directorate of Local Government (Rashid Awad), Deputy Governor of Hebron (Khaled Dodin), Chair of the Entrepreneurs Forum (Amer Al-Osaili), land donors, and a number of members City Council and director of administrative units and various departments in the Municipality.
MUI chairman Prof Sudarnoto Abdul Hakim expressed his happiness at the official launch of this project in the field after years of work.
Sudarnoto emphasized the Palestinian people's right to freedom and independence, considering that the Palestinian issue is a global issue that must be defended through international relations.
He explained that the Indonesian Ulema Council seeks to help Palestine at all levels and pointed out that this vital project will serve a large part of the Palestinian community.
He thanked the Hebron City Government for its concern for citizens, and its desire to consolidate cooperative relations with various fraternal countries and donors.
Hebron Mayor Tayseer Abu Sneineh said the laying of the first stone was the first building block, the first hospital building in the West Bank.
"This hospital is very important to provide quality services, especially for the citizens of Hebron City and its surroundings, who are suffering greatly because of the occupation and its settlers," said Abu Sneineh.
This hospital is expected to ease the suffering of residents and patients, he continued.
He added, residents who went to other governorates to receive treatment at private hospitals, thanked the land donors and their willingness to contribute to the development of the project.
He insisted that the partnership formed by the city government with governorate institutions was able to achieve many interests for the benefit of Hebron.
"The Palestinian issue is an important issue for the entire Islamic nation, and shows that Jerusalem is part of the Islamic faith. Preserving it is everyone's duty," he said.
The Mayor of Hebron praised the support of the Indonesian government, people and institutions for the Palestinian cause. The Palestinian people also appreciate Indonesia's generous support for Hebron's long-awaited projects.
The Indonesian Hospital in Hebron, Palestine will be built on a waqf land area of ​​4,000 m2, with a cost of around 100 billion rupiah.
The signing of the MoU agreement between MUI and the Mayor of the City of Hebron was carried out on January 4, 2020 in Amman, Jordan.
The hospital is planned to be built to accommodate patients in the Hebron region with a population of around 1.2 million people who need medical assistance, especially for physiotherapy and rehabilitation. (T/RE1)
Mi'raj News Agency (MINA)