Malaysia Launches National Fundraising Campaign to Support Palestinian Refugees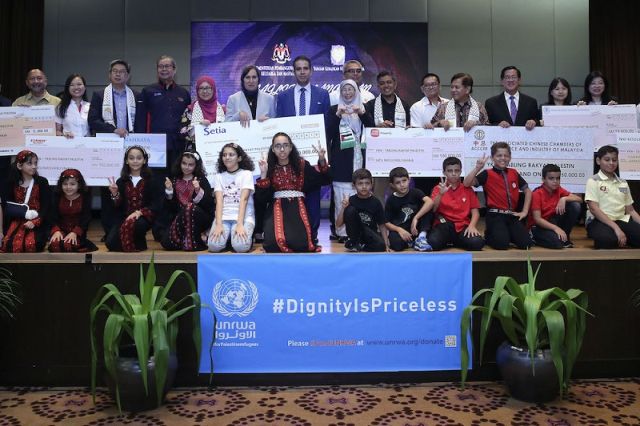 Kuala Lumpur, MINA — The Government of Malaysia has launched a national fundraising campaign to support Palestine refugees through the United Nations Relief and Works Agency for Palestine refugees in the Near East (UNRWA), Muslim Mirror reported.
Speaking at the campaign launch event, Malaysian Deputy Prime Minister Dr. Wan Azizah said, "The recent funding cuts to UNRWA undermine the education, healthcare and other life-saving services to vulnerable Palestine refugees," and called on all Malaysians "to join this effort. No matter how small, your contribution can make a big difference to people who have nothing."
She added that her government is determined to do all it can to ensure that Palestine refugees receive the support and solidarity they deserve.
Hundreds of Malaysian public and private sector leaders attended the campaign launch event in Kuala Lumpur. Many have expressed their solidarity with the Palestinian refugees, and have vowed to contribute to the national campaign, which will continue for a period of a month.
"The campaign in Malaysia culminates months of bilateral discussions between the Government of Malaysia and UNRWA," said Abdirahman Aynte, the Chair of the Dignity is Priceless campaign.
"The result is a robust public fundraising campaign with the aim to raise much-needed funds for the Agency and raise awareness about the plight of Palestine refugees in that part of the world."
In addition to the campaign, Malaysia has been a consistent supporter of UNRWA for decades, both in financial and political terms. Dr. Wan Azizah said her country will continue to use its political influence to ensure that UNRWA receives the support it deserves, including at the UN General Assembly.
The two sides highlighted that the partnership is inherently strategic. They have committed to exploring more means of financial support for UNRWA. (T/RS5/RS1)
Mi'raj Islamic News Agency (MINA)