Jusuf Kalla Attends UN General Assembly in New York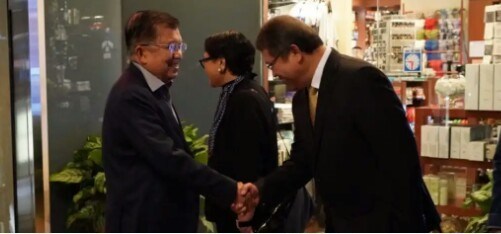 a number of Ministers Welcome the arrival of the Indonesian Vice President in New York (photo: doc/Vice President)
New York, MINA – Indonesian Vice President Jusuf Kalla arrived in New York, United States on Saturday evening local time, September 21 in order to attend the 74th United Nations General Assembly.
Indonesian Foreign Minister, Minister of Communication and Information, Minister of Energy and Mineral Resources, as well as Extraordinary and Plenipotentiary Ambassador to the US, welcomed the arrival of Vice President together with Mufidah Jusuf Kalla.
In his visit to Uncle Sam's country, Jusuf Kalla represented President Joko Widodo to lead Indonesian delegation speaking at the 74th UN General Assembly forum entitled "Galvanizing Multilateral Efforts for Poverty Eradication, Quality Education, Climate Action and Inclusion".
In General Assembly, about 193 the UN member states will attend, 100 heads of state, three Vice Presidents, 47 Prime Ministers and 36 Ministers and 2 Chairman of Delegation.
Jusuf Kalla will be scheduled bilateral meeting with a number of state leaders and attend an invitation of dinner from the United States President Donald Trump at the Latte New York Palace Hotel. (T/Sj/P2)
Mi'raj News Agency (MINA)