Jokowi`s Campaign Team Urged Not to Be Too Optimistic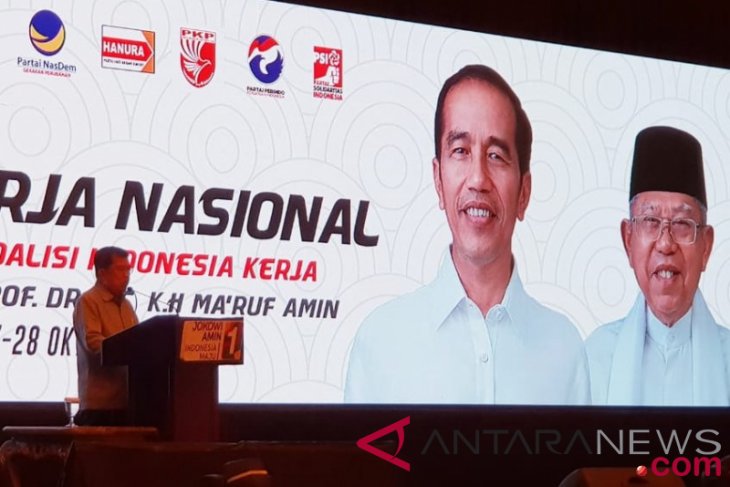 Surabaya, East Java, MINA — The chief of the steering board of President Joko Widodo (Jokowi)-Ma`ruf Amin national campaign team, Jusuf Kalla, called on the team members here on Saturday to not be over-optimistic of the positive results of surveys so far, Antara News reported.
"Do not be over-optimistic over the survey results," he stated, in his directives at the opening of the national meeting of the team, here on Saturday.
Kalla, who is also the vice president, reminded about the incidents in 2016, namely Brexit and Donald Trump`s victory over Hillary Clinton in the US election.
He noted that during the time, 90 percent of US citizens believed Clinton would win, and 90 percent of British citizens believed Brexit proponents would lose, but they were wrong.
"They were too optimistic that people would follow the winner. Hence, they did not think of voting because they thought they would win. The young people went on vacation and did not vote, and only those above 40 finally voted," he remarked.
Only 1 out of 10 surveys had Trump as the winner, and the survey result was from South Africa.
"It also happened in Jakarta before. So do not be too optimistic, but continue to advise people to vote for us, so that they would really come to the poll," he elaborated.
He added that it was not impossible that people would not work hard if they were too optimistic. "So we must continue to work hard and think that it would still be a 50-50 chance," he explained.
Jokowi would seek reelection with Amin, who is the chief cleric, as his running mate in the election scheduled in April next year.
He would compete against former army general Prabowo Subianto and businessman Sandiaga Uno as his running mate. In the last election in 2014, Jokowi defeated Prabowo. (T/RS5/RS1)
Mi'raj Islamic News Agency (MINA)