Jama'ah Muslimin (Hizbullah) Fully Supports Palestinian Struggle in UN General Assembly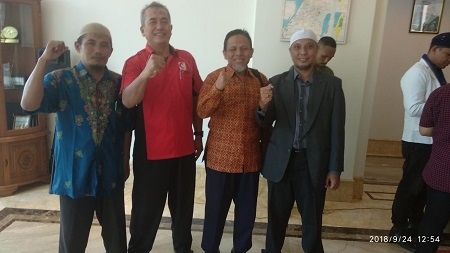 Jakarta, MINA – Jama'ah Muslimin (Hizbullah) as a forum for Muslim unity following the footsteps of prophethood (manhaj nubuwah) expressed his fully support for Palestinian President Mahmoud Abbas ahead of his speech at the UN General Assembly on 27 September.
This was conveyed by General Secretary (Katib Aam) Jama'ah Muslimin (Hizbullah) Agus Sudarmaji when attending the invitation of the Palestinian Ambassador to Indonesia,  Zuhair Al-Shun at the Palestinian Embassy in Jakarta, Monday (9/24).
" Jama'ah Muslimin (Hizbullah) always supports the struggle of the Palestinian people to achieve independence and end the Israeli occupation immediately on Palestinian land,," said Agus Sudarmaji who is also the chairman of the Aqsa Working Group (AWG).
The Delegation of Jama'ah Muslimin (Hizbullah) specifically met the invitation of Ambassador H. Zuhair Al-Shun in order to garner international support. On that occasion, delegates from religious groups such as Anggia Ermarini (NU), Herman (PGI) Nyoman Udayana (Hindu), Philip K Wijaya (Buddhist) and Fransisca (Protestant) also presented at the event.
In the same occasion, the emergency humanitarian agency, the Medical Emergency Rescue Committee (MER-C) who attended the event conveyed to the Ambassador of their commitment to support Palestine through the Health sector.
In his speech on September 27, 2018, Abbas is expected to oppose Washington, reiterating the need for an alternative peace plan, given the increasingly biased US supporting Israel. (L / R06 / P2/RS5)
Mi'raj News Agency (MINA)