Israeli-Enforced Demolitions in Jerusalem Leave Scores of Palestinians Homeless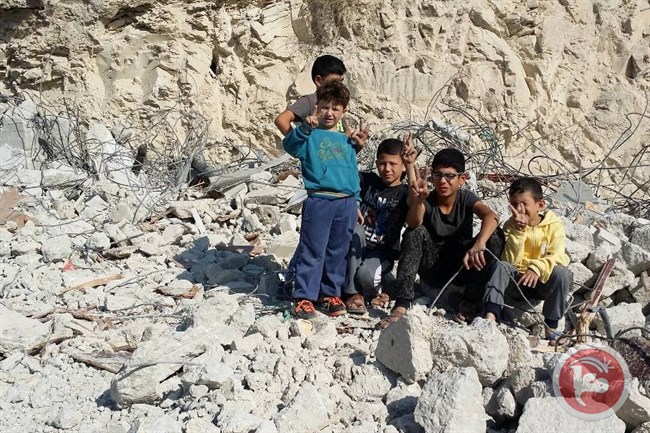 Al-Quds, 25 Muharram 1438/26 October 2016 (MINA) – Israeli-enforced demolitions in the occupied East Jerusalem neighborhoods of Beit Hanina and Silwan on Wednesday left at least 44 Palestinians homeless.
Three homes in the Al-Ashqariya area of Beit Hanina north of Jerusalem were demolished Wednesday afternoon without prior notice, according to members of the families who were displaced as a result of the demolitions, and in Silwan, an extended family of 30 Palestinians — mostly children — were displaced after the Jerusalem municipality rejected the family's attempts to obtain building permits for nine years.
Nasser Al-Rajabi, the owner of one of the houses in Beit Hanina, told Ma'an that Israeli forces raided his home and started to remove his furniture before they demolished it under the pretext that the structure lacked the necessary Israeli-issued permits, Ma'an News reported.
He said eight family members, including four children, were living in the 60 square meter house.
Al-Rajabi said it was the second time the home was demolished despite the fact that he has been trying to obtain permits for the past two years.
The second home, which was owned by by Ahmad Abd al-Razaq Siyam, was demolished while Siyam was at a store nearby.
His wife Nivin told Ma'an that she attempted to reach her husband at the store after Israeli forces raided the home, but they prevented her and carried on with the demolition.
She added that Israeli forces demolished the house while most of the furniture was still inside.
Nivin and Ahmad Siyam, along with their three children, were living in the 95 square meter house.
The home to be demolished in Beit Hanina Wednesday afternoon was owned by Thaer Ismael Siyam. He said that he was preparing the house, which consisted of a trailer and two rooms, for his upcoming marriage this year.
A Jerusalem municipality spokesperson could not immediately be reached regarding the three demolitions.(T/P008/R07)
Mi'raj Islamic News Agency (MINA)