ISRAEL DETAINS 9 PALESTINIANS AS RIGHT-WINGERS CALL TO RAID AL-AQSA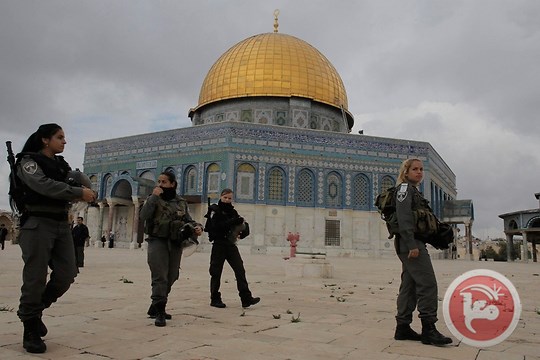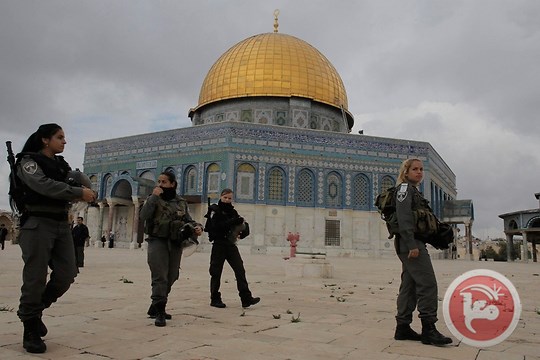 Jerusalem, 9 Shawwal 1436/25 July 2015 (MINA) – Israeli forces detained nine Palestinians from Jerusalem after raiding their homes in the Old City and delivered interrogation summons for others on Friday.
An Israeli police spokesperson did not immediately respond to request for comment.
Head of the Jerusalem Prisoners' Families Committee, Amjad Abu Asab told Ma'an the detentions were carried out as groups of settlers called for access to the Al-Aqsa Mosque on Sunday for the Jewish holiday of Tisha B'Av, Ma'an News Agency quoted by Mi'raj Islamic News Agency (MINA).
Right-wing Jewish organizations have presented an appeal to the Israeli PM signed by 1000 Israelis demanding to open the Al-Aqsa Mosque for Jews via the Moroccan Gate starting Sunday July 26 until the end of the week.
The organizations demanded that Al-Aqsa be entirely closed to Muslims starting Saturday evening and all day Sunday.
They also requested the holy site to be closed to Muslims during proposed Israeli visitation hours from 7:30 to 11:30 a.m. from Monday to Thursday next week.
The organizations also demanded that Jews entering the mosque's compound on Sunday would be allowed to pray freely inside, and that groups entering the compound from Monday to Thursday would be allowed to enter the Qabali and Marwani mosques inside of the Al-Aqsa compound.
The third holiest site in Islam, the compound is also venerated as Judaism's most holy place as it sits where Jews believe the First and Second Temples once stood.
Since 1967 Israel has maintained an agreement with the Islamic trust that controls the Al-Aqsa compound not to allow non-Muslim prayer in the area, while Jewish prayer is allowed at the neighboring Western Wall.
However, armed Israeli forces regularly escort Jewish visitors to the mosque compound, leading to anger among Muslim worshipers, often resulting and clashes and detentions.  (T/P010/R04)
Mi'raj Islamic News Agency (MINA)