INJURED GAZANS RALLY TO SUPPORT VICTIMS OF ISRAELI OFFENSIVE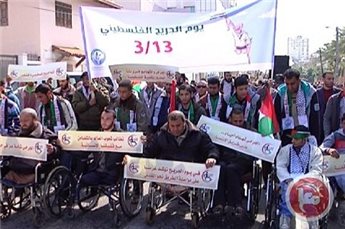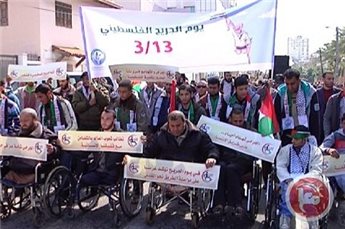 Gaza, 23 Jumadil Awwal 1436/14 March 2015 (MINA)–   Hundreds of Palestinians injured during Israel's summer offensive on the Gaza Strip on Thursday protested in Gaza City against what they say is official inaction for Palestinians disabled by Israeli warfare.
Participants in the protest called upon officials to form committees specializing in the affairs and rights of the wounded and to improve Palestinians' access to medical care and medications, which are severely limited by the Israeli blockade of Gaza.
Protester Rami Dabbour told Ma'an that the number of injured Palestinians in Gaza reaches into the tens of thousands, estimating that around 74,000 Gazans live with some form of physical injury or disability as a result of Israeli attacks on the enclave of 1.8 million people, Ma'an News Agency quoted by Mi'raj Islamic News Agency (MINA) as reporting.
Around 11,000 Palestinians were injured in Israel's offensive in July-August 2014, adding to the tens of thousands previously injured in Israeli assaults in 2012, 2008-9, and on a weekly or daily basis in or near the border.
Thousands more still suffer complications from injuries sustained before 2006, when the Israeli military directly occupied Gaza.
Dabbour said that around 300 people took part in the protest, which set off from the Palestinian parliament's office in Gaza City en route to the office of the United Nations High Commissioner for Human Rights.
Dabbour called upon the international community to help lift the siege on the Gaza Strip and Egypt to open the Rafah crossing.
Israel has maintained a strict blockade on Gaza since 2006 that has severely limited all imports and exports, ravaging the economy of the tiny coastal enclave and causing recurring humanitarian crises.
The blockade has had a particularly debilitating effect for hospitals and clinics in Gaza, as repeated Israeli military assaults have depleted their supplies even as restocking is an impossibility.
Wael Faraj, head of the board of the Merciful Hands Charity in Gaza, told Ma'an at the protest that the hundreds of amputees from the summer war were in need of specific support from the government.
Around 2,200 Palestinians were killed in Israel's summer assault, in addition to approximately 11,000 who were injured and nearly 110,000 who were left homeless. (T/P010/P3)
Mi'raj Islamic News Agency (MINA)