INDONESIA GIVES REAL SUPPORT TO PALESTINIANS: SBY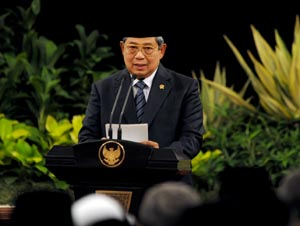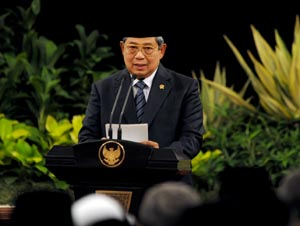 Jakarta, 20 Ramadan 1435/18 July 2014 (MINA) – Indonesian President Susilo Bambang Yudhoyono (SBY) stated in the plenary Cabinet meeting, Thursday, Indonesia always supports Palestinians' struggle by providing real aids.
"The situation right now is not safe. When Egypt offers ceasefire proposal and was accepted by Zionist Israel but it has not been accepted by Hamas (due to the blockade)," the president said, at the Presidential Office, Jakarta, Thursday,  according to a press release published by the Cabinet Secretariate as quoted by Mi 'raj Islamic News Agency (MINA).
"United Nations (UN) then offered another ceasefire concept called Humanitarian Ceasefire to give a chance to deliver humanitarian aids to Gaza," added the President.
According to SBY, Indonesia has applied strong diplomacy in supporting Palestinian struggle, the Foreign Minister and diplomats are working hard to support Palestine. I myself also took part actively to speak with other world leaders," he said.
In this conflict, Indonesia supported the ceasefire because aids should not be postponed. Children, women and the people of Palestine in general have been incredibly suffering, They should be helped.
Dr. Ashraf Al-Qadra, the Gaza Health Ministry spokesman said the victims of Israeli aggression reached 227 people killed and 1,685 others injured.
Indonesia has given good examples, and it was followed by other countries from the Organization of Islamic Cooperation (OIC) and the Non-Aligned Movement (NAM).
"We serve not only rhetorical, nor just statements, but provide real humanitarian assistance," said SBY.
He said the government has contributed at least $ 1 million, not included from the other NGOs. "If the peace process run well, the establishment of Palestine as an independent and sovereign state could soon be realized," said SBY.
One step was also taken by the Medical Emergency Rescue Committee (MER-C) that is building Indonesia Hospital (RSI).
Contact World Leaders
SBY claimed that he has called the Secretary General of the United Nations (UN) Ban Ki-moon, Wednesday evening to discuss the  diplomatic steps to end the Israeli attacks on the Gaza Strip, Palestine.
President Yudhoyono also called the President of Iran Hassan Rouhani-in his capacity as Chairman of the Non-Aligned Movement. "Alhamdulillah, President Rouhani strongly agreed with Indonesia's position towards peace and security in Gaza Strip," he said. (L/P02/P04/E01)
Mi'raj Islamic News Agency (MINA)