Indonesia Wants Asia-Pacific Musabaqah Memorization of Qur'an-Hadith Can Push Peace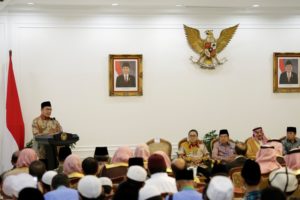 Jakarta, 15 Rajab 1437/22 April 2016  (MINA) – Vice President Jusuf Kalla has said that he wanted the Musabaqah memorization of al-Qur'an and Hadith Prince Abdul Aziz bin Sulthan Assuud of Asia-Pacific level in Jakarta served as momentum to promote peace in Arab countries.
"So many verses of the Koran that says we must unite and do not disarray," he said while delivering a closing speech of the annual event at the Vice Presidential Palace here on Thursday.
Therefore, he pushed for Islamic countries, particularly in the Arabian Peninsula, to unite. "We want the Palestinians to make peace. But it is unlikely if Hamas and Fatah factions are at odds, " he said in the presence of Prince Khalid bin Sulthan bin Abdul Aziz Assuud and Saudi Ambassador to Indonesia Mustafa Ibrahim Al Mubarak along with the participants of the Musabaqah.
In front of invited guests, mostly foreign Musabaqah participants, the Vice President said that Indonesia has a motto Unity in Diversity, differences but remain united.
According to him, the principle is not only practiced in government, but also run in the practice of Islam.
"It may be different in the way, but the fact it is still Islam. We do not want differences develop into a conflict. Make a difference a mercy. That is the meaning of the Musabaqah," he said.
Earlier, Minister of Religious Affairs Lukman Hakim Saifuddin reported that the event was the eighth time held in Indonesia.
This year it was held at the Istiqlal Mosque in Jakarta from April 17 to 20 and participated in by 150 participants from 25 countries in Asia-Pacific region.
"We should be proud that Indonesia gets the confidence to hold this Musabaqah annually," the minister said. (T/R07/R01)
Mi'raj Islamic News Agency (MINA)