Indonesia-India Commemorate 70 Years of Diplomatic Relations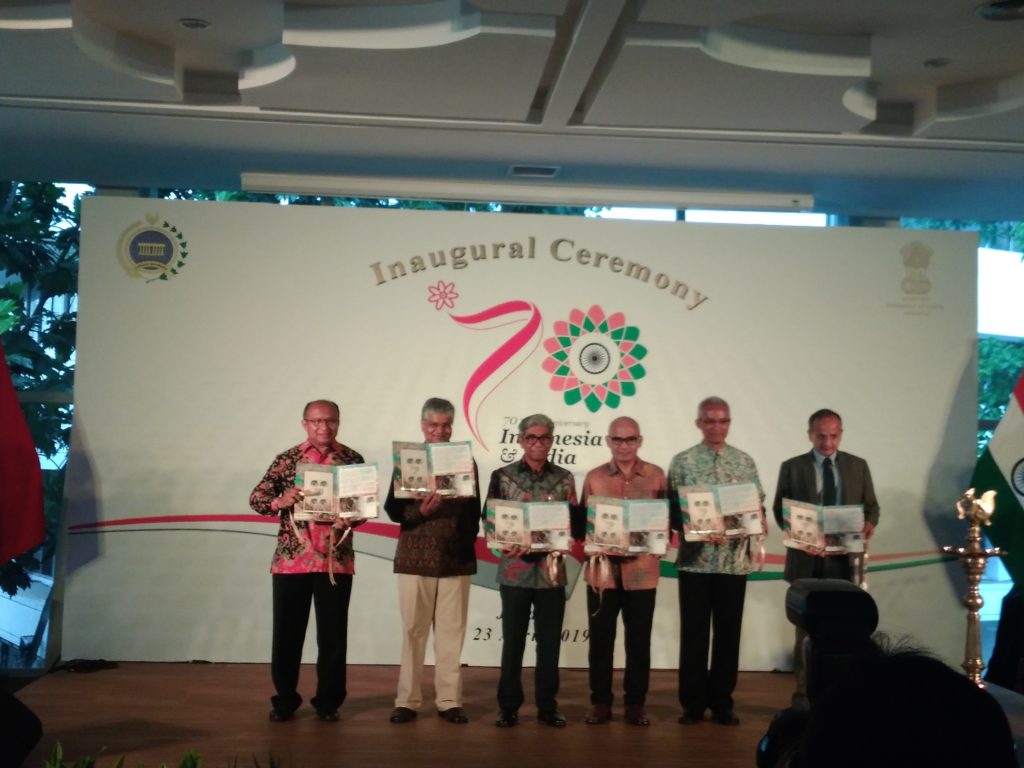 Jakarta, MINA – The Indonesian Ministry of Foreign Affairs and the Embassy of Republic of India in Jakarta on Tuesday held a 70th anniversary of the establishment of diplomatic relations between Republic of India and Republic of Indonesia at Ministry of Foreign Affairs, Jakarta.
The program presented performances of dances, arts from both countries, and special photo exhibitions which recorded several important moments in diplomatic involvement that had marked India-Indonesia bilateral relations from 1949-2019.
This exhibition showed an important milestone in the development of bilateral relations between the two countries started by Indonesia's First President, Ir. Soekarno and India's first Prime Minister, Jawaharlal Nehru in 1949.
In addition, Indonesian Government Post Department also released special commemorative stamps with theme "Ramayana" to mark the commemoration.
The Stamps designed by the famous Indonesian sculptor Padmashri, Mr Nyoman Nuarta, showing scenes from Ramayana, Jatayu bravely struggling to save Dewi Sita, who united the determination of two people in the face of adversity.
The Vice Minister of Foreign Affairs A.M Fachir, in his speech recalled the ancient cultural and civilization ties between India and Indonesia, and called for promoting greater inter-community exchange in the 70th anniversary.
"The number of Indian tourists visiting Indonesia has reached half a million people, while Indonesian tourists visiting India have increased by 20 percent. That is the basis for increasing cooperation, including steps to facilitate it, " he said.
Meanwhile, India's Ambassador to Indonesia, Pradeep Kumar Rawat underlined the significant steps between two countries have made in the past 70 years of bilateral relations, with the highest point being increasing bilateral relations to Comprehensive Strategic Partnership in May 2018 during Prime Minister Modi's important visit.
In the field of maritime cooperation, the two countries strengthened relations by sending the first commercial ship from Aceh that landed in Andaman, India, in early January this year, which aimed to build modern connectivity and utilize maritime proximity.
Meanwhile, in the trade sector, trade balance between the two countries has reached nearly $20 billion. From that amount, Indonesia is in a positive balance sheet with a trade surplus of $12 billion.
Indonesia and India not only celebrate numbers and changes that have occurred both in each country and in a bilateral context, but also optimism for future relationships.
India is an important country during the Indonesian independence struggle, considering that Prime Minister Jawaharlal Nehru provided personal support and brought his country to support Indonesia.
In 1947, Nehru who was close to the President Ir. Soekarno, held the Asian Relations Conference in New Delhi to gather support from Pakistan, Sri Lanka, Nepal, Lebanon, Syria and Iraq to urge Dutch leaving Republic of Indonesia.
India was also one of the five countries hosting the Asian-African Conference in Bandung, April 1955 which aimed to promote economic and cultural cooperation in Asian and African countries, and fight Western colonialism.
The Vice Minister of Foreign Affairs and the Indian Ambassador both emphasized that the implementation of cooperation can be truly realized in a more structured, systematic and measurable manner. (L/Sj/R04)
Mi'raj News Agency (MINA)