Indonesia Increases Fund to UNRWA for Helping Palestinian Refugees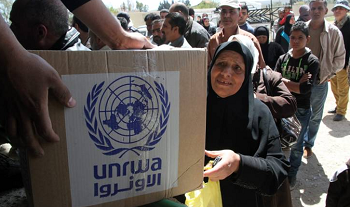 Jakarta, MINA – Indonesia has just increased its contribution to United Nations Relief and Works Agency for Palestine Refugees in the Near East (UNRWA) from US $100 to US $200 thousand this year.
The Indonesian Ambassador to Jordan Andi Rachmianto said "Indonesian Government has added a number of funds to help Palestinian refugees this year and most of them came from private sectors such as philanthropists, a non-profit organization," Djakarta Post reported.
Palestinian Refugees have faced hard problem after the United States (US) cutting all funds to UNRWA. This case has threatened the sustainability of the institution's programs because of the US is the biggest donor to UNRWA with an average of $300 million each year.
UNRWA was built after Israel occupying Palestine in 1948 in order to help Palestinians refugees. They were forcibly expelled from their county and town. UNRWA has managed around 5 million Palestinian refugees providing houses, health care, social services, and mostly education.
UNRWA has already faced a financial crisis after the US stop its contribution that makes a deficit of $217 million. Now, they are searching for the supporters that can make up the deficit.
The Palestinian Ambassador Zuhair al-Shun also said that Indonesia is the biggest proponent for the freedom of Palestine since a long time. "Indonesia can play an important role to ask the US changes its policy," said him.
Indonesia has donated $10,000 to UNRWA since 2008 and contributed from $5,000 to $10,000 every year. Moreover, Indonesia also has promised to give $2 million for Palestine through the Conference on Cooperation among East Asian Countries for Palestine Development (CEAPAD). (T/Sj/RS5)
Mi'raj News Agency (MINA)