Indonesia Condemns Israeli Attacks on the Great March Return in Gaza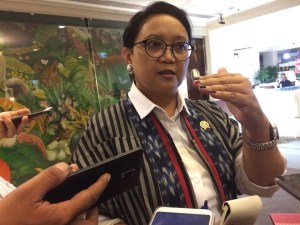 Jakarta, MINA – Indonesia through the Indonesian Ministry of Foreign Affairs has condemned the Israeli army's attacks on the Great March of Return at the Gaza and Israeli borders, leaving dozens of Palestinians dead and over 1,400 injured.
The government and the people of Indonesia expressed their deep sorrow and solidarity to the victims and their families because of the Israeli attack, according to a statement of the  Indonesian Ministry of Foreign Affairs received by MINA on Saturday (31/3).
Indonesia affirmed that the Government of Israel has a responsibility under international human rights and humanitarian law to protect civilians.
The Government of Indonesia urged immediate thorough investigation of the excessive use of force with the results to be published in full.
In the statement, Indonesia asserted, the impact of violence and cruelty by the Israeli army continues to pose a threat to peace efforts in Palestine and the Middle East region.
Earlier, it was reportedly Israeli troop has attacked tens of thousands of protesters as they marched near the Israeli border to demand the right of return for Palestinian refugees who fled or were expelled since the creation of Israel, the Health Ministry in Gaza said.(LT/R04/RS5)
Mi'raj News Agency (MINA)