Imam Yakhsyallah Mansur Inaugurates MSME Bazaar in Tabligh Akbar 1444H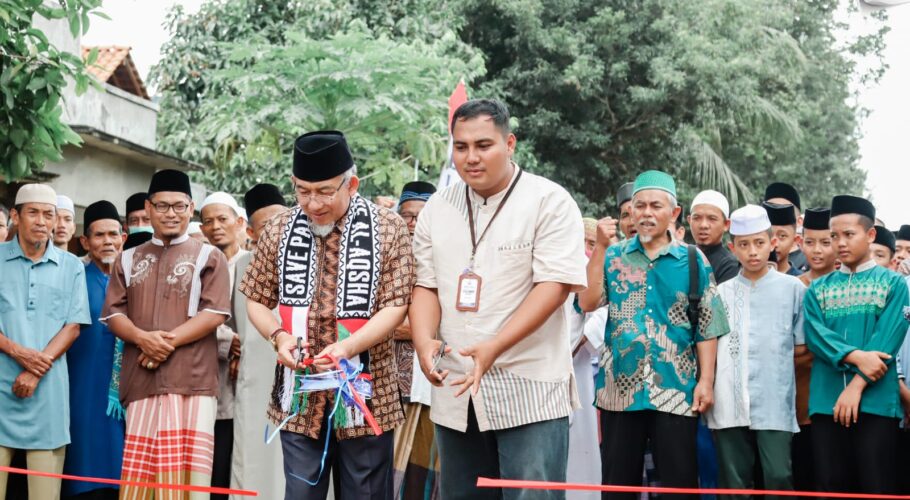 Imaam Yakhsyallah Mansur inaugurated a Micro, Small and Medium Enterprises (MSMEs) bazaar during the Tabligh Akbar and the 1444 H Sha'ban Festival which was held by Jama'ah Muslimin (Hizbullah), at the Complex of the Shuffah Hizbullah Islamic Boarding School and Al Madrasah -Fatah, Al- Muhajirun, Negararatu, Natar, South Lampung on Wednesday (foto: MINA)
Al-Muhajirun, South Lampung, MINA – Imaam Yakhsyallah Mansur inaugurated a Micro, Small and Medium Enterprises (MSMEs) bazaar during the Tabligh Akbar and the 1444 H Sha'ban Festival which was held by Jama'ah Muslimin (Hizbullah), at the Complex of the Shuffah Hizbullah Islamic Boarding School and Al Madrasah -Fatah, Al- Muhajirun, Negararatu, Natar, South Lampung on Wednesday.
The bazaar was inaugurated with ribbon cutting by Imaam Yakhsyallah Mansur, accompanied by the Chairman of the Tabligh Akbar Committee Robith Kurniawan, also witnessed by the supervisor and elders of Al-Fatah Islamic Boarding School, Ustadz Amin Nuroni, Ustadz Budiarso, Ustadz Abdullah Muthalib, and the Head of the Bazaar Committee, Zaki Tiffany Lazuardi.
When interviewed after the opening, Imam said that the bazaar is also a trade center, as a recommended form of profession and has been mentioned a lot in the Qur'an.
Besides that, said Yakhsyallah, this is one of the professions that the Prophet used to do, which has been practiced by many human beings to this day. The MSME Bazaar was held because it is an important matter related to the people's economy.
"We know that the people's economy is now one of the most important things. So of course it is important to hold this MSME bazaar. So, with this we are able to do business with Islamic values," he said.
The hope of holding the UMKM Bazaar at Tabligh Akbar 1444 H is to be able to make all traders and buyers receive blessings and convenience, and be given as much fortune as possible.
There are 26 culinary stands and 20 non-culinary stands consisting of various MSMEs ranging from clothes, books, souvenirs, and others. (T/RE1)
Mi'raj News Agency (MINA)