HALLOWEEN REFUGEE OUTFIT SPARKS OUTRAGE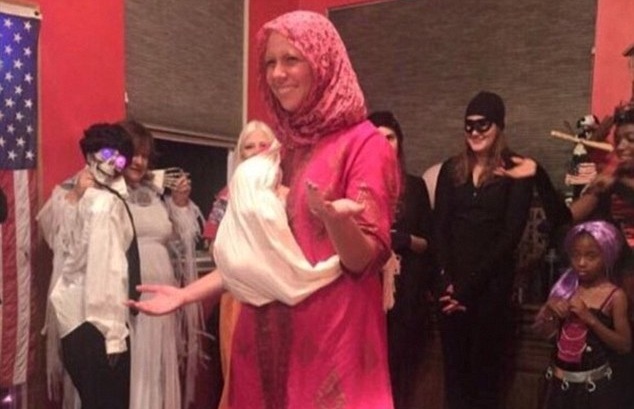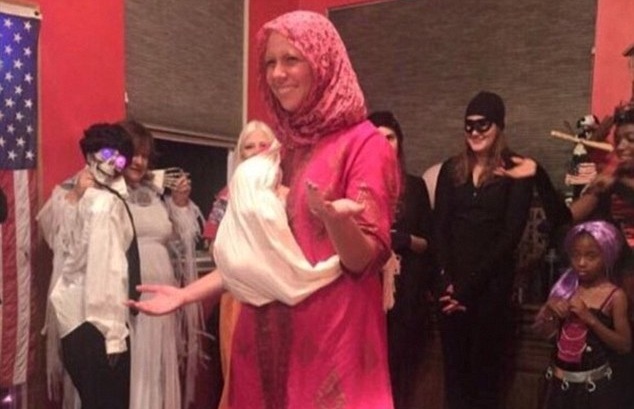 London, 21 Muharram 1437/3 November 2015 (MINA) – A photo of a woman dressing up as a refugee with a baby tied around her body for Halloween has drawn the ire of social media users, who blasted the photo as insensitive and  racist.
"Livid & appalled by the woman dressed as a #SyrianRefugee with a doll (baby) sling-wrapped as her #Halloween costume. Insensitive & racist," Jigme Ugen, president of The Tibetan National Congress, wrote on Twitter, On Islam quoted by Mi'raj Islamic News Agency (MINA) as reporting.
The controversy erupted after undated image of a woman wearing a pink dress and headscarf with a baby in a sling was posted online alongside the caption refugee by Abigail Dapron from South Africa.
Though the caption posted alongside the photo appeared to show support for refugees, many Twitter users slammed the action.
Dapron wrote, 'Perks of having Saudi raised besties 😉 #hijabmaster #weloveourrefugeefriends #jesuslovestherefugees #jesuswasarefugee.
The offensive photo has been widely shared by outraged Twitter users.
"Just saw pic of someone dressed as a Syrian refugee for Halloween. Why would you do that?? They are suffering but yet you are mocking them," Amneh Jafari tweeted.
One Twitter user Hareesa said, "Cannot believe someone had the audacity to dress up as a Syrian refugee for Halloween. How heartless can people be."
"Saddened by some of these Halloween costumes. How nice to have the luxury to dress up as an oppressed refugee for a night. Inhumane," another one added.
Last week, America's largest supermarket chain bowed to calls by Arab and Muslim rights groups and dropped Halloween costume that includes a large prosthetic Fagin nose, described in its online store as perfect for an Arab Sheik.
Earlier in October, a Halloween retailer company released a costume that depicts American Muslim student Ahmed Mohammad, who was arrested for bringing a homemade clock to school, sparking mixed reactions among social media users.
More recently, Ebay auction site has come under fire for offending Muslims by offering burkas as Halloween fancy dress costumes.
Halloween is an annual Western celebration based on Celtic pagan doctrines and traditionally applied to the evening of October 31st.
Celtics were a group occupying the area known now as Ireland, the United Kingdom, and Northern France about 2,000 years ago.
Halloween has clear connections with the Eve of Samhain, a celebration marking the beginning of winter as well as the first day of the New Year among ancient pagans of the British Isles (2nd century BC).
On this occasion, it was believed that supernatural forces gathered together and that the barriers between the supernatural and human worlds were broken.
They believed that spirits from other worlds, such as the souls of the dead were able to visit earth during this time and roam about.
When Christianity came to the British Isles, the church tried to take attention away from these pagan rituals by placing a Christian holiday on the same day.
The Christian festival, the Feast of All Saints, acknowledges the saints of the Christian faith in much the same way that Samhain had paid tribute to the pagan gods.
These traditions were brought to the United States by immigrants from Ireland and Scotland. (T/P006/R03)
Mi'raj Islamic News Agency (MINA)