GAZA HEALTHCARE SERVICES ON BRINK OF COLLAPSE: WHO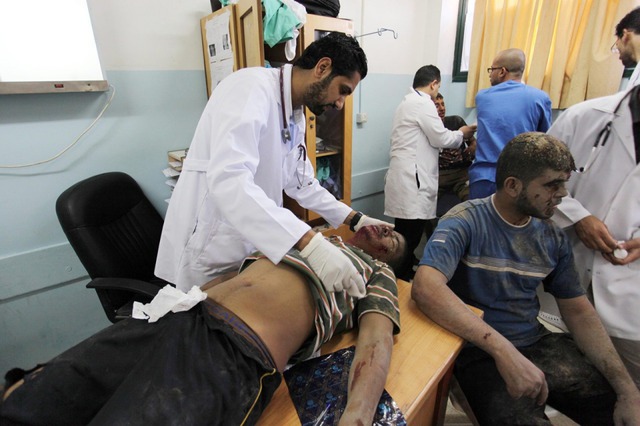 Geneva, 13 Ramadan 1435/11 July 2014 (MINA) – Health services in the occupied Palestinian territory are on the brink of collapse amid severe shortages in medicines and fuel for hospital generators, as the Gaza conflict with Israel deepens, the World Health Organization warned on Thursday.
WHO appealed to donors for $40 million for essential healthcare supplies through year-end and a further $20 million towards the debt owed by the health ministry to East Jerusalem hospitals receiving cancer patients from Gaza and the West Bank, Ahram Online quoted by Mi'raj Islamic News Agency (MINA) as reporting.
"The recent escalation of violence in the Gaza Strip raises concern about the ability of the government and the Ministry of Health of the occupied Palestinian territory to cope with the increased burden of medical emergencies on the health system, given the high levels of shortages of medicines, medical disposables and hospital fuel supplies, and rising healthcare debt," WHO said in a statement.
At least 78 Palestinians, most of them civilians, have been killed in Israel's Gaza offensive, Palestinian officials said on Thursday, as militants in the enclave kept up rocket attacks on Tel Aviv, Jerusalem and other cities.
"A hospital, three clinics and a water desalinisation centre in a refugee camp have also been damaged. More air strikes and missile attacks are likely," WHO said of Israeli attacks.
In Gaza, the health ministry has only 10 days of fuel reserves for hospitals during frequent power cuts, it said. Half of state health workers have not received their salaries in recent months, and some can no longer afford to report for work.
The Palestinian Ministry of Health has reported it is unable to maintain adequate stocks of medicine because of chronic outstanding debt, now amounting to more than $250 million, WHO said.
Ministry hospitals have stopped elective surgeries in the past week and are only carrying out life-saving ones, it said.
"We are working in a terrible situation. I did not have the necessary materials to stitch my trauma patients today and had to improvise," it quoted a physician in Shifa hospital, on duty for 24 hours, as saying.
Dr. Ala Alwan, WHO regional director, recalled that the situation was similar in 2008-2009 and in 2012 in the Gaza Strip, when stocks were low and medicines were urgently needed.
"Today, the West Bank is also affected by shortfalls in budget and medical supplies. The response and preparedness of the health sector is at very low level, and we are concerned about a possible collapse of health services," he said. (T/P09)
Mi'raj Islamic News Agency (MINA)
http://english.ahram.org.eg/NewsContent/2/8/105971/World/Region/Gaza-healthcare-services-on-brink-of-collapse-WHO.aspx