GAZA GATE TO AQSA'S LIBERATION: ULEMA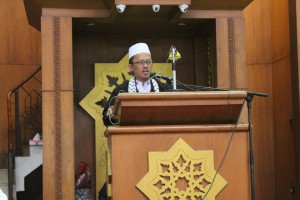 Jakarta, 28 Jumadil Awwal 1436/19 March 2015 (MINA) – Indonesia ulema, Ali Farkhan Tsani said, Gaza is one of the main gate towards the liberation of Al-Aqsa mosque and the Paelestinian independence.
"It has been for several years Gazans suffering due to the attacks by Israeli occupation. Although Gazans are under the blockade, the fact Gaza is still exist and many fighters and hafidz Quran was born from it," said Ali Farkhan at the moment of Tabligh Akbar themed "The Existance of Caliphate Terms of Al-Aqsa's Liberation," Sunday (15/3).
"The Qur'an this is the power for Gazans to resist from the blockade," he added.
He called on Muslims to concern to the liberation of Al-Aqsa Mosque as well as stressing the responsibility of Muslims to support Palestinians to gain the independent.
"Muslims should not allow any colonizers rule al Aqsa Mosque bacause it's belong to Muslims," said the Ambassador of Al-Quds.
According to him, the data showed, Israel admitted that his forces suffered heavy losses when attacting Gaza Strip.
The Tabligh Akbar was held by Jama'ah Muslimin (Hezbollah), Aqsa Working Group (AWG), Al-Fatah Radio, Silaturahim (Rasil) media, and Mi'raj Islamic News Agency (MINA).(L/P008/R03)
Mi'raj Islamic News Agency (MINA)