Four Indonesian Citizens Successfully Evacuated from Gaza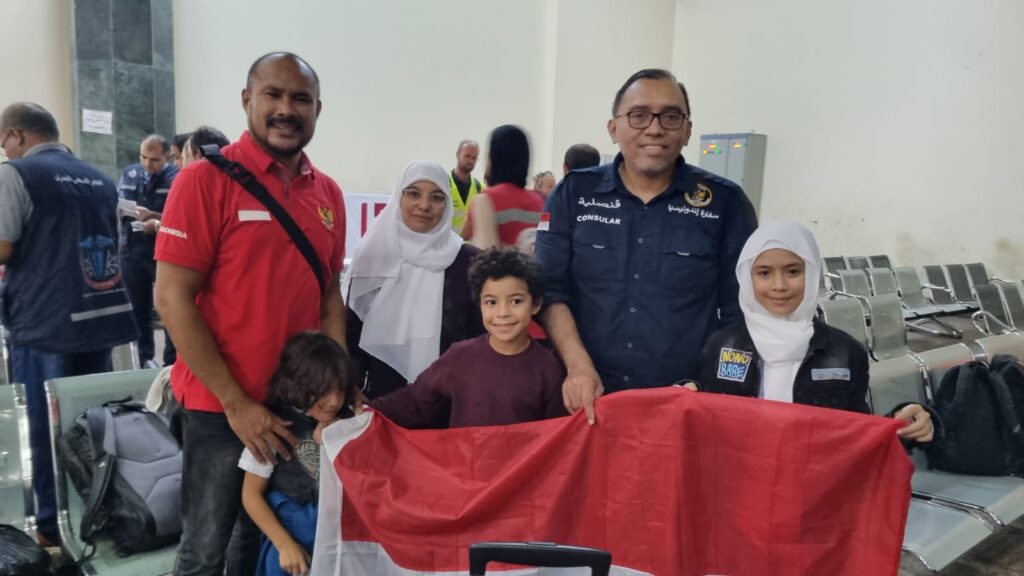 four Indonesian citizens (WNI) and one Indonesian citizen's wife were successfully evacuated from Gaza by the Republic of Indonesia Embassy (KBRI) team in Cairo, Egypt, Thursday (2/11) evening local time. (Photo: Public Relations of the Indonesian Ministry of Foreign Affairs)
Jakarta, MINA – Four Indonesian citizens and one of Indonesian wife were successfully evacuated from Gaza by the Republic of Indonesia Embassy (KBRI) team in Cairo, Egypt on Thursday evening local time.
"Alhamdullillah, praise be to God, on November 2 at around 19.00 Egyptian time or around 00.00 November 3 WIB, 4 Indonesian citizens and 1 Indonesian citizen's wife were successfully evacuated from Gaza and arrived in Rafah," said the Indonesian Minister of Foreign Affairs Retno Marsudi at a press conference in Jakarta on Friday.
Previously, the Indonesian Embassy Team in Cairo was in Rafah, Egypt on Wednesday to pick up Indonesian citizens from Gaza.
The four Indonesian citizens then together with the Indonesian Embassy Team traveled to Cairo and arrived safely at 03.00 in the morning local time.
The Minister of Foreign Affairs said that the journey to evacuate Indonesian citizens was not easy because along the way there were attacks, communication was broken down and the administrative process in Gaza was very strict.
Meanwhile, three Indonesian citizens (husband and children) and a Palestinian wife cannot be evacuated because there are still several administrative problems that are being managed and resolved.
Apart from that, the Indonesian Minister of Foreign Affairs also continued to communicate with three Indonesian citizens who were volunteers for the Medical Emergency Rescue Committee (MER-C) who decided to remain in Gaza.
The three volunteers, who graduated from the Al Fatah Islamic boarding school, worked at the Indonesian Hospital in Gaza and decided to stay so they could continue to dedicate themselves to helping Palestinians. (T/RE1/P2)
Mi'raj News Agency (MINA)