NO FLY AND SAFE ZONE, TURKEY'S PRIORITIES IN SYRIA: ERDOGAN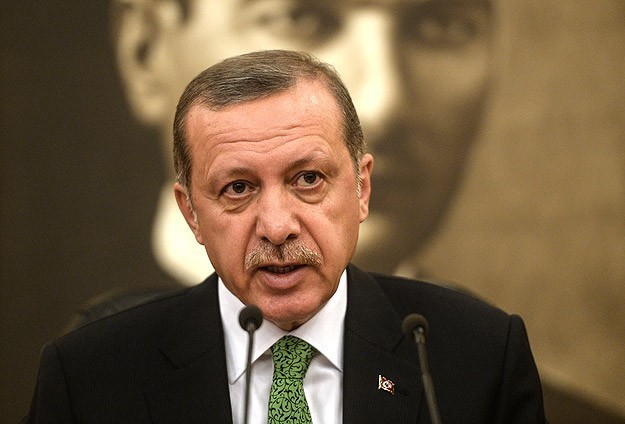 New York, 3 Dzulhijjah 1435/27 September 2014 (MINA) – Turkey's priority is to establish a no-fly zone over Syrian air space and safe zones inside Syria to guarantee the security of Turkey's borders and to stop the massive refugee inflow from Syria, said Turkish President Recep Tayyip Erdogan Friday.
Erdogan explained that the proposed measures to be taken in Syria and Iraq against the Islamic State of Iraq and the Levant, ISIL, topped his talks with U.S. President Barack Obama and Vice President Joe Biden. At a press conference in Ankara, he added that the outcome of discussions on what role Turkey will take in the region will be addressed by the Turkish government.
"We cannot ignore the developments at our Syrian border. Around 1 million asylum-seekers are in our territories. This should come to a stop one way or another," Erdogan said, Anadolu Agency quoted by Mi'raj Islamic News Agency (MINA) as reporting.
The president wrapped up his discussions in the UN headquarters New York Thursday with a phone conversation with Obama and face-to-face talks with Biden.
"We cannot accept ISIL's actions, which have nothing to do with Islam. Our religion is the religion of unity, solidarity and peace," he said.
"We have to do our best as a Muslim country. We cannot be an onlooker while the Christian world takes such a step," he added.
The U.S. carried out more than 200 airstrikes against ISIL in Iraq and has struck the group 40 times in Syria along with its allies. France and Britain joined the U.S.-led mission on Thursday.
Erdogan commented on the returned Turkish hostages who were held hostage by ISIL for 101 days, and said: "Our next steps will be preventing the repeat of such event and ensuring the safety of our borders."
"Three things are of the utmost importance. Firstly, the formation of a no-fly zone. Secondly, the formation of a safe haven on the Syrian side and preparation for its organization and administration, and thirdly we will discuss which actors will manage this process," Erdogan said.
Erdogan stressed that Turkey's calls for international efforts to stop the humanitarian tragedy in Syria fell on deaf ears since the beginning of the almost four-year conflict.
"Four years ago, there were no such groups (like ISIL) At that time, ISIL had recently splintered from al-Qaeda, and it strengthened itself in Syria." (T/P001/P3)
Mi'raj Islamic News Agency (MINA)