First Time, Indonesia Exports Buses to Bangladesh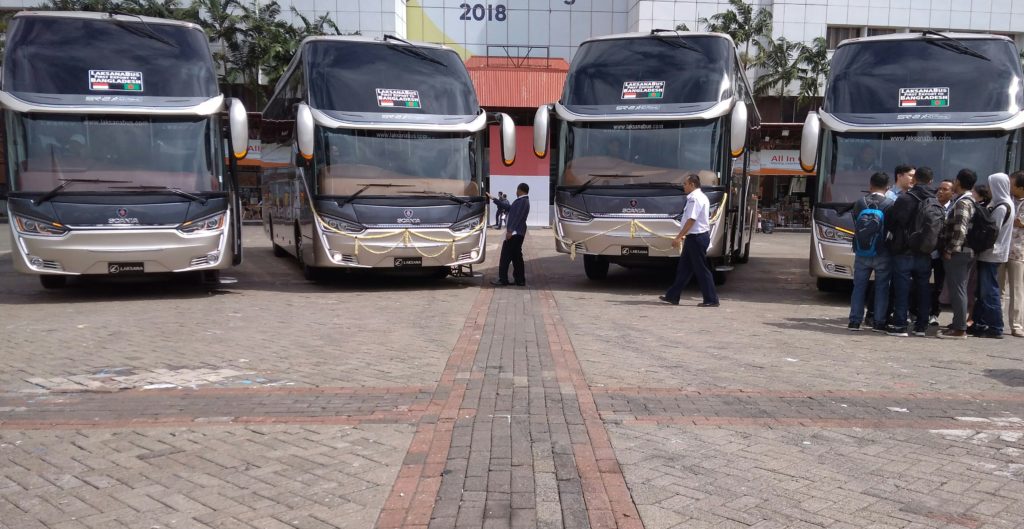 Four buses of CV Laksana High Decker are ready to be exported to Bangladesh (Sajadi/MINA)
Jakarta, MINA – Indonesian Minister of Foreign Affairs, Retno L.P Marsudi on Thursday, inaugurated the first export executif buses producted by CV Laksana to Bangladesh.
In his speech, first, she congratulated CV. Laksana for their four exported buses to Bangladesh.
"This shows that Indonesia have high competitiveness in international market," said Retno at JIEXPO Kemayoran, Central Jakarta.
Success of CV. Laksana entering Bangladesh market proved that Indonesia has high competitiveness in international market. Indonesia Ministry of Foreign Affairs through economic diplomacy will continue to support national businessman to penetrate potential non-traditional markets.
Foreign Minister also hope that this success could inspire other companies in Indonesia to develop their markets, in potential markets, which have not been yet seriously worked on.
For information, the four buses are XHD Prime SR2 type with high decker. The bodies made in Ungaran, Central Java. As for the chassis and engine, supplied by Scania.
Beside exported high decker, CV. Laksana will also export 10 double deck buses with a total transaction value of $ 808 thousand or around Rp 11.4 billion.
"These buses are a realization with Bangladesh to increase economic cooperation. We also have an FTA process (Free Trade Agreement) hopefully it can be agreed latest on 2020, "she said.
Bangladesh is an important partner for Indonesia in South Asia region. In addition, executive buses, early 2019, Indonesia through PT INKA has sent 15 carriages for first phase of exports from a total of 250 Bangladeshi order. (L/Sj/P2)
Mi'raj News Agency (MINA)