ERDOGAN URGES FOR PROTECTION TO CRIMEAN MUSLIM TATARS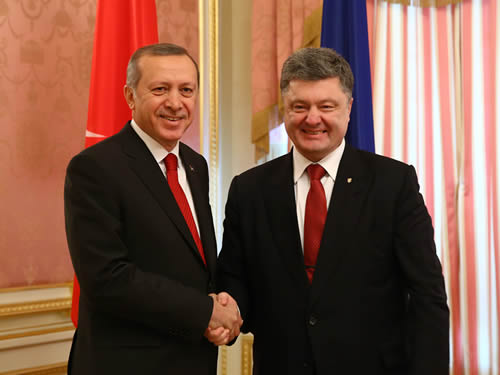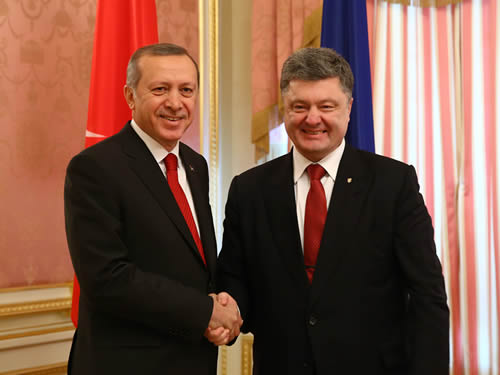 Kiev, 6 Jumadil Akhir 1436/26 March 2015 (MINA) –  During his visit of Kiev, on 20 March,Turkish President Tayyip Erdogan offered humanitarian assistance and a $50 million loan to Ukraine while calling for protection of the rights of the Crimean Tatars.
Mr Erdogan, who avoided mentioning Russia's conduct, expressed nonetheless support for the territorial integrity of Ukraine. He added that the Turks have been closely monitoring the situation of Crimean Tatars and will continue to include their problems in the agenda of bilateral relations and in international platforms.
Turkish President Tayyip Erdogan offered a $50 million loan to Ukraine and called for the rights of Crimean Tatars to be protected during a trip to Kiev on Friday, but avoided outright criticism of trade partner Russia, Unpressented Nations and Peoples Organization (UNPO) quoted by Mi'raj Islamic News Agency (MINA) as reporting.
In a joint press conference with Ukrainian President Petro Poroshenko, Erdogan said Turkey was also offering $10 million in humanitarian assistance on top of the loan, which is meant to help Ukraine cover its budget deficit.
"We have expressed our support for the territorial integrity, political union and sovereignty of Ukraine, including Crimea, in every platform," Erdogan said, voicing support for the Minsk ceasefire brokered by Germany and France in February.
"We also wish for the continuation of Ukraine's stance of protecting the rights of all ethnic and religious minorities, especially Crimean Tatar Turks, who have proved their loyalty to their country during this crisis," he said.
Turks have close kinship bonds with the Muslim, Turkic-speaking Tatar minority in Crimea, the Black Sea peninsula Moscow annexed from Ukraine a year ago. Erdogan has repeatedly warned that the instability could have regional repercussions.
But Turkey has deepening trade ties with Russia and has been reluctant to openly criticize Moscow's actions in Ukraine. Erdogan spoke by phone with Russian President Vladimir Putin this week, discussing energy deals and the Ukraine crisis.
Erdogan expressed hope that Ukraine would also continue to support and safeguard the rights of all ethnic and religious groups, including the Crimean Tatars. (T/P4/R03)
Mi'raj Islamic News Agency (MINA)