Erdogan Questiones Israel's Borders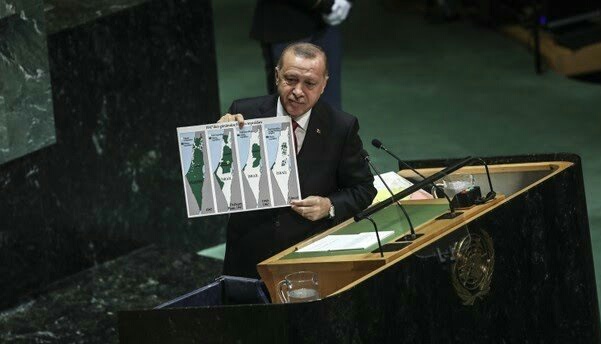 Erdogan Questiones the Israel's Borders in 74th UN General Assembly (photo: special)
New York, MINA – Turkish President Recep Tayyip Erdogan in his speech at the 74th General Assembly of the United Nations (UN) in New York, Tuesday, September 24 questioned the borders of Israel.
"Where is the border of the State of Israel? Is that the 1948 border, the 1967 border, or is there another border? "Erdogan asked leaders of the member states who attended General Assembly, adding that Israel's occupation of Palestinian territories was illegal, the Daily Sabah reported.
Erdogan said the global community and the United States (US) must take concrete action to support Palestinian people "beyond mere promises."
"How can the Golan Heights and West Bank settlements be captured, like other occupied Palestinian territories, before the eyes of the world if they are not within the borders of this country?"
He also questioned the motives behind the "Deal of the Century" initiated by the US because it aimed to eliminate Palestinian State and People.
"Turkey will continue to support the oppressed Palestinian people as it continues to this day," the president said.
Earlier, Benjamin Netanyahu in the election campaign said he would annex Jewish settlements in the occupied West Bank if he was re-elected as Prime Minister, but the results of the elections were on. But did not achieve the results as targeted. (T/Sj/P2)
Mi'raj News Agency (MINA)