SEVERAL EMBASSIES IN CAIRO CLOSE THEIR DOORS FOR 'SECURITY REASONS'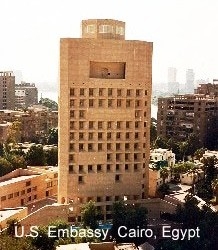 Cairo, 16 Safar 1436/9 December 2014 (MINA) – A number of diplomatic missions in Cairo have either closed their doors or updated their travel advice to citizens over the last few days, citing "security reasons."
Sources at the American, British and Canadian embassies, speaking on condition of anonymity, that two possible scenarios underlie these measures, Ahram online quoted by Mi'raj Islamic News Agency (MINA) as reporting.
The first scenario, sources said, is that the embassies are closed due to "possible political tensions that might cause turmoil," a reason that was not mentioned in the official statements. The second scenario sources gave mirrors the embassies' official explanations: the closures are due to "security threats."
Meanwhile, sources at the Italian and Belgium embassies told Ahram Online that they were functioning as usual but assessing security conditions.
The British embassy closed its doors on Sunday for what was meant to be one day but extended its closure to Monday and no date was given for reopening. However, the British Consulate-General in Alexandria is operating as normal.
Similarly, the Canadian embassy closed on Monday citing "unsettled security conditions."
Meanwhile, the Australian embassy in Cairo updated its travel advice, warning of reports indicating terrorists may be planning attacks against embassies in the capital.
The reports, according to the last travel update issued by the Australian embassy on Saturday, also warn of attacks against tourist and government sites.
The embassy maintained its advice to Australians to reconsider their need to travel to Egypt, while continuing to advise against all travel to North Sinai governorate, due to ongoing crisis in the region.
The Australian embassy in Cairo, however, is operating normally, an embassy spokesman told Ahram Online.
The American embassy issued a warning to its nationals on Thursday, saying "in light of the heightened tensions and recent attacks on Westerners in the region" embassy staff were advised to stay close to their residences.
Americans in Cairo were also advised to avoid locations which witness regular protest activity, citing reported clashes at several universities and neighbourhoods in the greater Cairo area.
Despite its warnings, the US embassy remains open.
The British, Canadian, Belgium and American embassies in Cairo are located in Garden City near downtown Cairo, while the Australian and Italian embassies are located downtown Cairo.
The embassies have always maintained tight security arrangements with roads to the embassies cordoned off by the police.
No official statements were issued by Egypt on the Canadian decision to close its Cairo embassy on Monday.
However, the Egyptian foreign ministry said on Sunday that the suspension of services by the British embassy in Cairo was "just a precautionary measure."
In response to the British embassy's closing, Head of Cairo's Security Directorate Ali El-Demerdash said on Sunday that security was tight around all embassies and consulates in the capital.
El-Demerdash added that securing embassies and consulates is the responsibility of Egypt's security forces, in light of terrorist attacks.
Terrorist attacks in Egypt have targeted army and police personnel and institutions mainly in North Sinai governorate, but attacks have extended to Cairo and nearby governorates. Although they were not the target of these attacks, civilians were also harmed.
The last terrorist attack against tourists in Egypt took place in February, when unknown assailants targeted a tourist bus in the Red Sea resort town of Taba, killing three Korean tourists.
Many western countries imposed travel warnings to Egypt at the time, but almost all warnings were lifted over the summer. (T/R04/P3)
Mi'raj Islamic News Agency (MINA)