EGPYT'S AL-AZHAR UNIVERSITY TO REOPEN DORMS THIS WEEK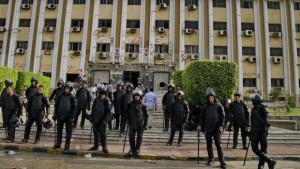 Cairo, 17 Muharam 1436/10 November 2014 (MINA) – The dormitories at Al-Azhar University will open their doors in the next few days, following the recent closure as it became hotspot of anti-government protest, said the university's deputy president Ahmed Hosni.
Al-Azhar's student dorms were the scene of recurring protests againts government during the last academic year, as students mostly in favour of president Mohamed Morsi squared off with security forces to denounce his ouster in July 2013 by military leader. Tens of students were arrested, while others were expelled.
The dormitories have remained closed, despite lectures at the university starting on 11 October, Ahram online quoted by Mi'raj Islami News Agency (MINA) as reporting.
Hosni claimed only students who fit the university's rules and restrictions will be allowed into the dorms, with female students given priority, according to Al-Ahram's Arabic news website.
The university has already conducted security checks on all dormitory applicants, said Hosni.
Due to unfinished maintenance in five dormitory buildings, he claimed, 30 percent fewer students will be housed this year.
Hosni's statements come only a few hours after security forces fired teargas bombs against students protesting at Al-Azhar University, the oldest Islamic university in the world.
Dozens of students organised two separate rallies on Sunday in the faculties of medicine and humanitarian studies to protest the university's decision to allow security forces to enter the campus and to call for detained students to be released and those expelled to be allowed back.
Al-Azhar University and Cairo University saw some of the worst violence during last year's student protests. Authorities contracted a private security firm to guard over a dozen public universities nationwide at the start of the academic term in October.(T/R04/R03)
Mi'raj Islamic News Agency (MINA)